Summons And Benoit Reach Career Milestones During 2019-20 Season
There are more than 30 National Championship banners hanging in the rafters at Miami Dade College. Behind those accolades are an array of legendary head coaches, such as Demie Mainieri and Ilida Medero, who left an edible mark on the College's record books.
Head women's basketball coach Susan Summons and head volleyball coach Origenes "Kiko" Benoit are eager to join that elite group after getting milestone wins this season.
Benoit notched his 400th career win in September and Summons won her 600th career game in November.
Susan Summons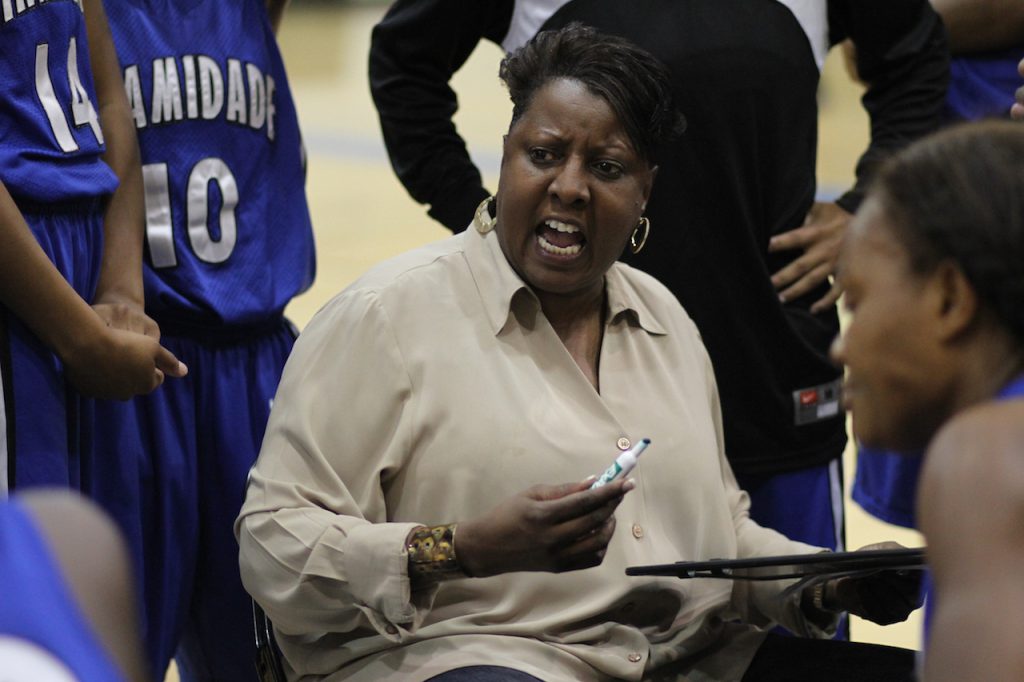 Summons, who has served as head women's basketball coach and a health and wellness professor at MDC for 34 years, reached her 600th win after defeating Daytona State College 85-71 on Nov. 17. She stands as the winningest women's basketball coach at MDC with a 614-359 record and a .631 winning percentage.
"That particular game was an amazing game," Summons said. "We went into that game or any game, not focusing on that but focusing on winning our game and playing good basketball and as a result, [the 600th win] came that night. It was very rewarding." 
Summons traveled a long road to reach that special night.
Before starting her coaching career in 1982, Summons had stints as a basketball player at the collegiate and professional levels. In 1977, she attended Roxbury Community College in Boston before transferring to Lamar University in Beaumont, Texas, where she averaged 17.9 points per game from 1978 to 1980. 
Summons became one of Boston's first African-American athletes to play in the Women's Basketball League after being drafted in the third round by the New Jersey Gems in 1981. She last laced up her sneakers as a player for the New England Gulls before going back to Roxbury CC as a head coach and professor in 1982.
After four years at Roxbury, Summons accepted the head coaching position at MDC in June of 1986.
In 2007, she was named one of the 100 Most Influential Sports Educators in America by the Institute for International Sport. Summons was also selected as one of South Florida's Most Powerful Black Business Leaders by the Miami Herald and Legacy Magazine in 2013.
Summons has been inducted into the Women's Basketball Hall of Fame and the National Junior College Athletic Association Women's Basketball Coaches Association Hall of Fame. This year, she received the 2020 Women's Basketball Coaches Association Victory Club Honor for achieving 600 career wins. 
At MDC, Summons' legacy goes beyond the basketball court. She is a two-time Endowed Teaching Chair Award recipient.
Origenes "Kiko" Benoit
Origenes "Kiko" Benoit reached his 400th win on Sept. 7 after defeating Snow College 3-1. Under his guidance, the Lady Sharks have won 11 State Championships and appeared in six National Championships games, winning national titles in 2016 and 2017.
Benoit attributes his success to his players and assistant coaches.
"I don't take it as a personal victory, I take it as a combination of hard work, the kids working together to achieve something and all the assistant coaches," Benoit said. "I'm happy but I don't think I did it on my own."
Benoit was born on a military base in the city of San Isidro in the Dominican Republic on Oct. 18, 1971.  
He played baseball on the junior Air Force team and learned the basics of volleyball by watching his sister, Maria Del Carmen Benoit, play on the Air Force women's volleyball team.
In 1985, Benoit moved to New York with his family. Three years later, he moved with his father, Origenes Benoit Sr., to Miami and graduated from American Senior High School in 1990.
He earned an associate's degree from MDC and a bachelor's of science degree in general education, with a minor in psychology, from Columbia College of Missouri.
In 1995, he volunteered with the volleyball team at MDC. He helped then-head-coach Ilida Medero during practices and passed out water during games. The hard work earned him an assistant coaching position in 1997.
By 2005, Benoit ascended to the head coaching position after Medero stepped down due to health issues. Fifteen years later, his record stands at 423-80. 
Benoit has been named the Florida College System Activities Association Coach of the Year 11 times. He won the NJCAA America Volleyball Coaches Association National Coach of the Year Award in 2017, and received the NJCAA National Tournament Coach of the Year in 2016 and 2017.
"My main goal is to do well and keep bringing trophies to Miami Dade but the most important [goal] is to form individuals that will be productive to the community," Benoit said.