Hail, Caesar! Offers A Comedic Peek Into Hollywood's Hectic Film-Making Industry
The comedy/mystery film Hail, Caesar! failed to make a splash at the box office when it was released in 2016. 
But this hidden gem features award-winning directors and actors and an interesting message. So, we decided to include it in our Netflix Resurrection series, which shines a spotlight on movies we feel deserved more attention when they were released.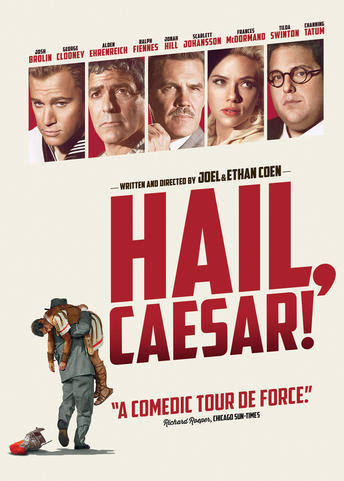 Hail, Caesar! revolves around a day in the life of Eddie Mannix, a film studio executive known for his problem-solving abilities. He attempts to solve a pregnancy scandal, deal with gossip columnists and coaches a singing cowboy to lose his southern accent.
As if that wasn't enough, Mannix must solve the kidnapping of Baird Whitlock (played by George Clooney). Whitlock—the studio's biggest star—is taken by The Future, a group of communist screenwriters who demand $100,000 in ransom. 
Directed by the Coen brothers, Hail, Caesar! has their classic blend of comedy and drama. Like many of their films, these award-winning directors—who have won Academy Awards, Golden Globes and more—created a movie that is shot beautifully and masterfully written. 
The film also boasts some of the biggest names in the industry. They include Josh Brolin (who plays the main character, Eddie Mannix), George Clooney, Channing Tatum and Scarlett Johansson. 
But just like in the film production industry, Hail, Caesar!  is all over the place.
It takes place in the early 1950s and pulls back the curtain to show viewers what it's like to be on set. The Coen brothers make the film incredibly hectic and depict how stressful it is to make movies. 
The movie guides us through various storylines and characters that all have some affiliation to Mannix and his studio.  All of the weaving storylines make the film hard to follow in the beginning. However, once the film hits its stride, it flows seamlessly, and you begin to feel like  you are in Hollywood's golden era. 
Although the movie is a love letter to Hollywood, it does not shy away from poking fun at the film industry. There are several moments when the Coens make fun at actors, writers, directors and others in Hollywood. 
Hail, Caesar! is well put together, but it is far from perfect. There are several storylines and characters that leave you confused. However, it is a comedy at heart and provides valuable insight into today's complicated, yet beloved entertainment industry.
It's a great comedy/mystery movie with a lot of heart and passion. If you are into star-studded comedies, this is the movie for you.