Funding For Public Schools Is Crucial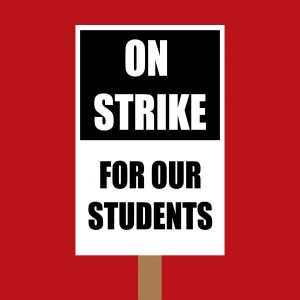 The Los Angeles teachers' strike shouldn't reflect anything new about the American education system, but some are still oblivious to its shortcomings.
The non-profit group United Teachers Los Angeles recently asked their district to reduce class sizes and hire more nurses, librarians, counselors, and social workers. For the first time in 30 years, their teachers, who are also demanding a 6.5 percent pay raise, have organized a strike to have their demands met.
According to the U.S Department of Education, the federal government only contributes eight percent of funding to U.S public schools, while it lies on state and local governments to decide how they will allocate the rest of the money for education.
The six-day strike in Los Angeles was not an exclusive event. In 2018, there were a series of protests occurring from Arizona to Colorado, and from Kentucky to Oklahoma.
The same theme constantly presents itself in all of these teachers' strikes: funding. In West Virginia and Oklahoma, most districts fall 10 to 33 percent below the national average in funding per student.
According to the Center on Budget and Policy Priorities, in 2015 29 states were spending less on students than they did in 2008. U.S Schools took a hard hit after the 2008 recession, and teachers are tired of teaching outdated material, the lack of funding, low pay, and having to pay for most of the materials they want to bring into their classrooms.
The politics of education is indeed a field of concertina wire. It isn't totally clear which methods encourage academic achievement effectively. Class sizes affect the teacher workforce, while incentives such as performance pay or merit pay affect teachers' pay. Teachers' unions are against this because academic performance is influenced by many factors that are outside of teachers' control.
Financial resources for public schools are also compromised for the sake of charter schools, which receive public funding for private use, and are also entitled to a piece of their state's school dollars. This creates risk for public schools because some states do not have a law limiting how many charter schools can exist. Between 2012 and 2017, Florida increased its number of charter schools from 568 to 654. In Florida education funding follows the students. Charter schools took away students from public schools, causing them to receive less funding.
The same is true in Los Angeles, where charter schools are being introduced to undermine and compromise public schools. The "choice" model that pulls students away from public schools toward charter schools privatizes and segregates schools, affecting academic outcomes.
A question we also have to ask is whether the citizenry cares and wants to fund the education of our youth through our taxes. There needs to be a shift in the redistribution of wealth and values. Do we value the education of our youth?
California is one of the most progressive states, a leader in opposition against the Donald J. Trump administration. It is the home of Silicon Valley, where Google, Apple, and Twitter have their headquarters. Despite this, it continues to be ranked near the bottom of the states when it comes to spending on education. The Los Angeles teachers' strike is a reflection of how America and the American public treat their public education system.