From Fan To Executive Producer, Mike Ryan Ruiz Shepherds One Of ESPN's Top Programs
The night of Feb. 27 will go down as one of the most emotional moments in recent South Florida sports history.
Dwyane Wade, in his 16th and final season in the National Basketball Association, took down the defending champion, Golden State Warriors, on a last-second three-point heave that revived the Miami Heat's season.
The iconic moment reminded spectators of Wade's heroism during his 14 years with the Heat.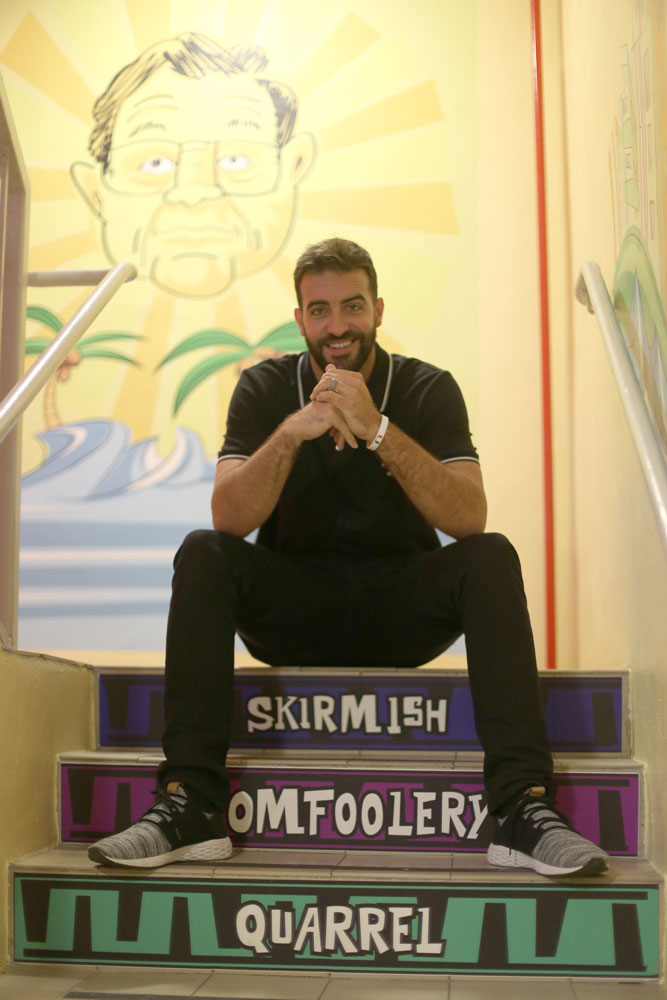 The following morning, Mike Ryan Ruiz, executive producer for ESPN Radio's The Dan Le Batard Show with Stugotz, opened the show's local hour and recounted the drama that unfolded the previous night.
"From day one, we said it. Never lost—never," Ruiz said. "A legend, the perfect way to close Black History Month. Bars, all across America, erupting."
However, Ruiz wasn't talking about Wade's sublime shot. He was referring to musician T-Pain winning the season finale of The Masked Singer—a singing competition that the show's production crew had been enamored with for the last nine weeks.
The moment was a glimpse into how the 33-year-old producer—who describes himself as being caught between a corporate machine and a maverick—navigates the hijinks The Dan Le Batard Show curates on weekdays between 9 a.m. to 1 p.m. within the Clevelander Hotel in South Beach. It resides in the middle ground of nonsensical banter and sports radio.
"Dan is obviously the star of the show, but Mike is sort of the engine room, the guy who makes a lot of decisions people don't even know about and does a great job," said Greg Cote, one of the show's co-hosts, who makes weekly appearances every Tuesday.
Ruiz first joined the The Dan Le Batard Show in 2005 as a 19-year-old intern while studying mass communications at Kendall Campus.
Two years later, he was hired as a producer to edit sound and book guests. The first guest he scheduled was former Miami Heat star, Tim Hardaway. During the interview, Hardaway infamously stated that he would distance himself from a player he knew to be homosexual.
"It was a bumpy start," Ruiz jokes.
From the start, Ruiz was thrown into the proverbial fire. He learned to manage the pressure of the job on his own. Those were the expectations placed on him by Le Batard, co-host Jon "Stugotz" Weiner and the executive producer at the time, Marc Hochman. Collectively, they fostered Ruiz's growth.
After Hochman left the show to host his own program on WQAM, Ruiz was promoted to executive producer.
"At first, I felt like I wasn't cut out for it and I wasn't ready and I felt as if Dan and Stu were unsure I was ready for that job so I had to really regain that trust," Ruiz said. "I was very stressed and I had to try and keep the culture around the show Hoch developed alive while learning. I'm still learning, quite frankly, how to be a manager of people. I have to call the shots and manage a lot of personalities and as the show's grown, that's gotten a lot more challenging."
According to fellow producer Roy Bellamy, as Ruiz grew confident in his new role, he became instrumental in urging Le Batard to go national.
The show follows an episodic nature with a litany of inside jokes. There is a symphony of unspoken communication that Ruiz uses to keep the show humming to the tune of a jazz ensemble.
"We do a lot of private talking to each other within segments. We have a lot of verbal and nonverbal communication, and me, Stugotz, Mike, Billy, Roy, Allyson and Chris are all doing producing within segments," Le Batard said in an email. "We need to be engaged with each other simply to not talk over each other. Think of Mike as the sphincter through which many of the shipping container's ingredients pass to Stugotz and I. You can't digest us without his help."
Ruiz also serves as a buffer between ESPN executives and the show.
"He's the only thing repping management in our environment. We don't have any other daily supervision that reaches me until I get in trouble. He's where the bumper car's sparks go," said Le Batard. "He knows all of ESPN's worries and concerns. I don't. And I don't want to. So he's protecting us, and sometimes we steamroll him, and then we deal with the fallout. He's in a tough spot between keeping us edgy but keeping us out of trouble."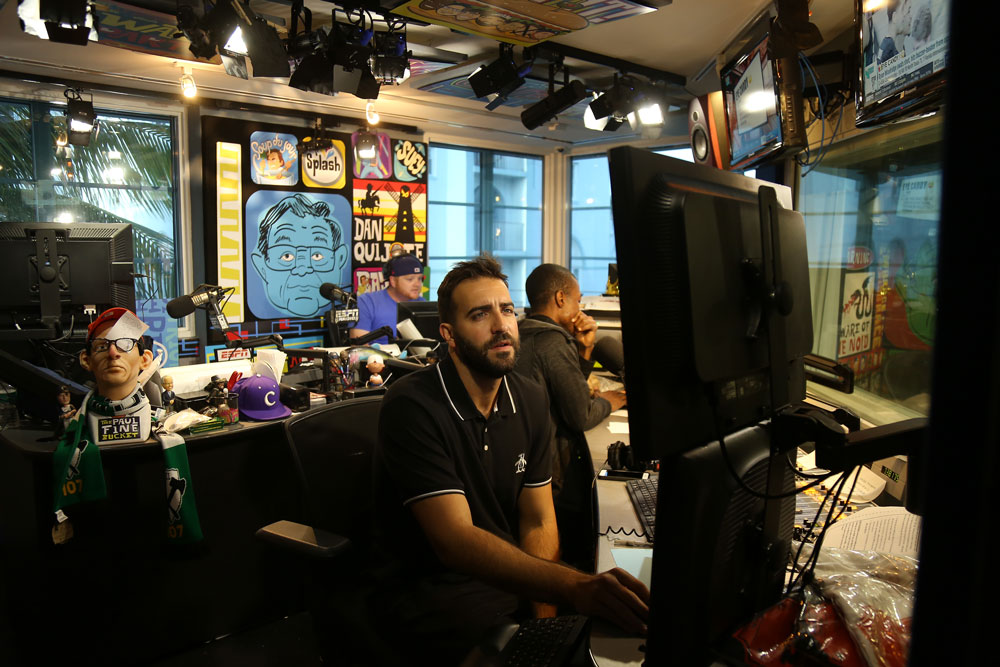 The show, which thrives on its antics, has run into various controversies. Their most recent incident came in 2017 when Le Batard interviewed Major League Baseball commissioner Rob Manfred and called him out for allowing the Miami Marlins to be sold to an ownership group that tore down the team.
"I think they know that it doesn't come from a malicious place," Ruiz said. "We do get in trouble from time to time but it comes from a genuine place of just trying to entertain our audience and follow our own curiosity."
Ruiz confesses that there is no handbook for the demands of his job.  
"It's not a great business or career. Most fail and flail. It doesn't feel like learning while you are making the mistakes," Le Batard said. "I know what Mike's job WAS. I just learned recently what it became when he got to ESPN, and what it became was a giant pain in the ass that turns him into a janitor on messes. He got there, and I needed a buffer between him and management and content. I wasn't sure he was ready when he started. Too young. Not enough outside experiences. But he grew into it, and his confidence grew with the show's."
Ruiz has watched the show transform from a local afternoon production to a nationally syndicated show that is one of the nation's most downloaded podcasts.
In 2018, the show received 91 million Interactive Advertising Bureau (IAB) certified downloads, according to a press release by ESPN. According to ESPN, the show receives more than eight million downloads a month.
The show's popularity is a factor that surprises Ruiz when he gets recognized during show-sponsored events.  
"The passionate fans keep us honest," Ruiz said. "We're blessed to have that kind of immediate response. The show has become some sort of rally cry where we ask them to support us and they do so. It takes a lot of work to sound this disorganized and the fans recognize it and I think people gravitate to it."
Ruiz recently took another step in advancing his career when the show announced the release of their digital audio network, titled Le Batard and Friends.
The network will feature an array of podcasts separate from the show.
The first series on the network, South Beach Sessions, was launched last December and features Le Batard interviewing friends and celebrities in a format less constrained than the average radio segment.
On the digital audio network, Ruiz is not only tasked with overseeing the shows under the Le Batard and Friends umbrella, but he also serves as the executive producer for South Beach Sessions.
The network now also features a gaggle of other shows including: Stupodity, a podcast hosted by Stugotz that is a platform to opine on sports and the world around him; The Mina Kimes Show featuring Lenny, where ESPN senior writer Mina Kimes discusses the latest in NFL news along with guest hosts and her dog, Lenny; and That's What She Said, where espnW and ESPN Radio host Sarah Spain profiles guests from the worlds of sports, comedy, music and beyond.
All the shows are released on a weekly basis and can be downloaded on most podcast services. The show's expansion spotlights the evolution of a conductor leading his marching band.   
"Since I first started on the show, I always found myself in difficult spots as my career advanced and the show expanded," Ruiz said. "The story of my career has been to never get comfortable. There's always a new challenge. This show's growth has allowed me to grow individually."