Freshman Point Guard Brings International Experience To Lady Sharks Basketball Team
Basketball isn't the most popular sport in Ecuador, but Camila Barreno fell in love with the game when she was three years old.
It was easy. Barreno grew up idolizing her mother Esmeralda Campana, who played college basketball at the Universidad Técnica de Ambato and for an amateur club—Importadora Alvarado. 
She recalls sitting on the sidelines during practice, dreaming about following in her mother's footsteps. 
Fifteen years later, Barreno fulfilled that dream as a point guard on the Miami Dade College women's basketball team.
"She always wanted me to go farther than she did," Barreno said while discussing her mom's vision for her. "This is a dream that we always had together so this means a lot to her."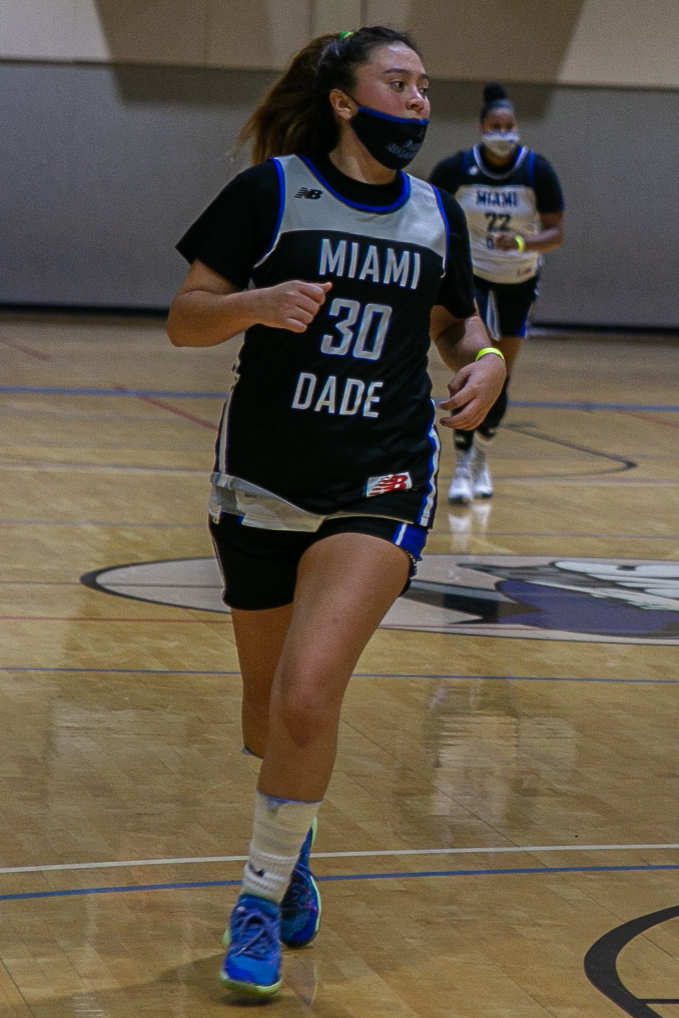 Despite being a freshman, the 18-year-old point guard brings a wealth of experience to the Lady Sharks. 
Barreno started playing for her city's club team, Tungurahua, when she was five. That is where she sharpened her skills and learned the fundamentals of the game before she was called up to the Ecuadorian National Team in 2019.
Last year, the Ecuadorian team competed in the FIBA South American U17 women's championship, placing fourth. Barreno averaged five points, three rebounds, and 1.5 assists during the tournament. 
"It was really good to play with other countries," Barreno said. "I learned that every team is different and I need to adapt every game no matter where or who I am playing against."
Despite achieving success on the national team, she was focused on something else: playing basketball in the United States. 
That summer, Barreno traveled to Miami to play at an Amateur Athletic Union tournament with the Florida Christian School's summer team. She heard about the opportunity through her cousin, Emma Valenti, who attended the school. 
Barreno's play garnered the attention of FCH Head Coach Peter Ramis, who offered her a scholarship. She didn't disappoint, averaging 14.9 points per contest last year as a senior and leading the team to the Regional Tournament.
This January, Ramis recommended Barreno to MDC Head Women's Basketball Coach Susan Summons. Barreno made an impression on Summons.
"She showed great potential to develop into a great point guard at the college level," Summons said. "Camila is also quite coachable and listens."
Teammates say Barreno's willingness to learn has made for a seamless transition to the college game. 
"She always asks if she has any questions," said sophomore point guard Rio Yamazaki, who is battling Barreno for playing time. "She's a great teammate. She can score and [pass]."
Barreno is focused on helping the Lady Sharks improve on last season's performance. Last March, the Lady Sharks reached the Florida College System Activities Association State Tournament but were eliminated in the semifinal game against Gulf Coast State College.
But this year, Barreno thinks things will be different: "I expect to go to Nationals and win the State Championship."