Freshman Overcomes ACL Tear To Support Lady Sharks In Rebounding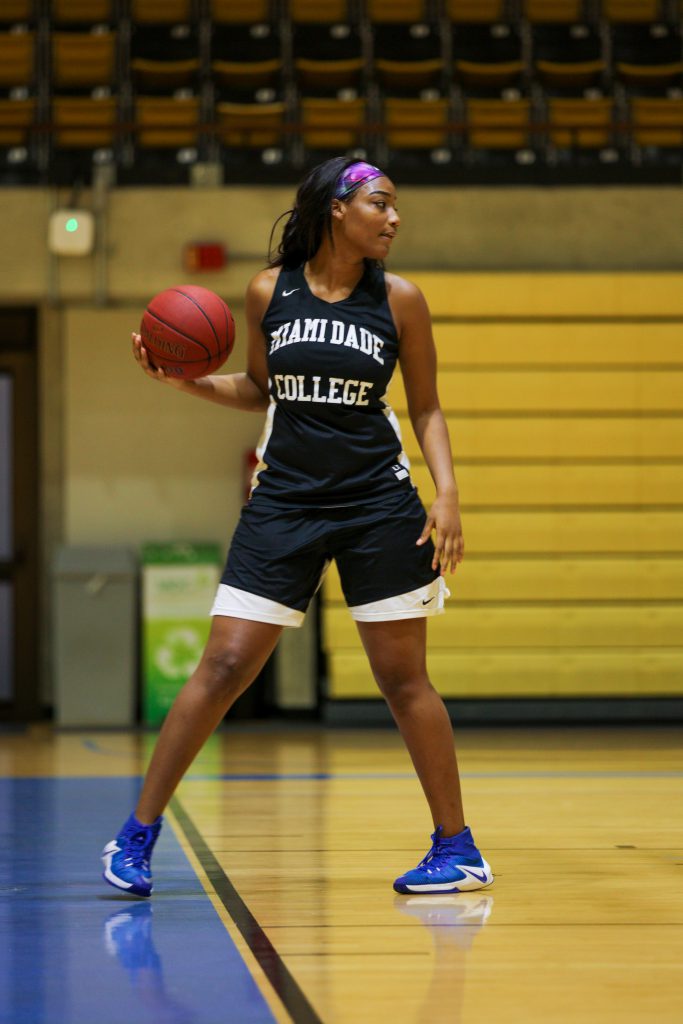 Deidra Harris has been a rebounding machine for the Miami Dade College Lady Sharks basketball team this season.
The freshman is averaging 10.8 rebounds through 10 games. She corralled 23 rebounds in a game against Hillsborough Community College on Nov. 10.  In addition to being second in rebounding for the Lady Sharks, who are 5-5 this season, she also has 16 steals and 14 blocks while averaging 5 points a game.
"We have always had great success with training post players to be ranked in the nation and in the state," said head coach Susan Summons. "Deidra is working on strength training, uses a weighted sports rope and conducts individual player development sessions."
The 6-foot-3-inch center was born and raised in Decatur, Georgia where she attended Columbia High School. Harris played varsity basketball half of her sophomore year before tearing her right ACL during practice. The incident kept her out her entire junior year, but she was able to return to the basketball court her senior season.
After the knee injury, Harris was weary of coming back but didn't give up on pursuing her basketball career despite warnings from doctors that she might not be able to play for a long time.
"It was difficult to come back but the pain was really inside my head because I was scared to tear it again," Harris said. "But I'm starting to get over it now."
Harris knew she wanted to play basketball collegiately so she used her skills to get out of Glenwood, a poverty stricken city in Georgia.
"I knew me leaving was a better opportunity for myself. It's a way I can actually help [my family]," Harris said. "There wasn't anything really holding me in Georgia besides my family. I lived in a rough neighborhood, everybody was dying, this was a good way to get out."
Despite having a tough upbringing, Harris,18, always has a constant smile on her face.
"Off the court Deidra's a goofy and funny person," said shooting guard, Michelle Wright, who is also Harris' roomate. "She's always cracking jokes and laughing about something."
When not playing basketball Harris' favorite pastime is cosmetology. She enjoys doing makeup and hairstyles like box braids and sew-in weaves.
Harris is currently a pre-med major at MDC. She wants to continue playing collegiate basketball at a Division I school and eventually go into the obstetrics and gynecology field.
"Being an OBGYN to me is like one of the most rewarding jobs because you get to bring a new form of life into the world," Harris said.
The Lady Sharks next game will be at home at the Theodore R. Gibson Health Center, 11011 S.W. 104 St., versus North Central Missouri College on Dec.13 at 5:30 p.m.