Freshman Guard Finding His Form
Amid a rough season, where the Sharks have gone 9-16, freshman guard Elton Walker has distinguished himself as one of the team's top scorers.  
Walker is leading all freshman with 12.8 points per game and he has a team-leading 55.7 shooting percentage. The six-foot-five-inch wing player has continued to live up to the expectations head coach Kevin Ledoux set for him.
"He's a grinder," Ledoux said. "He's the player that plays hard and works harder in the gym. We had high expectations of him coming out of the summer and he's been surpassing them with his play."
Walker had an unorthodox start to his basketball career. He had never played competitively until his sophomore year at Miami Killian Senior High School.
Football was Walker's first athletic passion until he broke his hip playing for the Palmetto Bay Broncos, a Pop Warner team, when he was 12.  
Walker was devastated.
He thought the injury would rob him of his athleticism, which allowed him to play safety and running back with ease. Walker let the psychological effects linger; he feared reinjuring himself.  
"I had to put in a lot of work after the injury," Walker said. "After I got hurt, I didn't even want to play sports. I was too worried about putting too much pressure on my hip and reinjuring myself."
Walker was convinced to return to play sports, through the persistence of his coaches at Killian and his family. But he faced many obstacles.
He transitioned to basketball because it was less taxing on the body. Despite being a novice, Walker's coaches saw his talent—even against more experienced players.   
"When I started playing basketball, all I could do was grab rebounds because I still had that football instinct," Walker said. "Without my coaches and the practice I put in, I wouldn't have been able to develop properly."
By his senior season, Walker showed hints of his potential as an athletic slasher who could defend with ease, but he went unnoticed by scouts. Miami Dade College was the only school to offer him a scholarship.
He went to MDC determined to prove himself. Walker faced obstacles at the start of the season.
Through his first ten games, he averaged 6.8 points per game on 46 percent shooting. Only twice did he score in double-digits during that stretch.
On Dec. 1, the script changed.
In the last fifteen games, Walker has averaged 16.8 points per game and shot 57.9 percent from the field. During that span, he has scored in double digits 13 times, including a season-high 27 points against Advanced Prep Academy on Dec. 1. He also hit a game-winning shot in overtime on Dec. 16 against Hillsborough Community College.  
"I never saw this [change] coming. I was just playing hard and doing what was asked of me on the court," Walker said. "It turned out to be good to me so I've continued to play hard."
Though he doesn't view himself as one of the team's leaders, he has left his mark with his work ethic.
"He one of the toughest workers we have," sophomore guard Arseniy Andreev said. "Every practice he's going as hard as he can, pushing himself to play better and us to match his level."
With a 4-3 record in Southern Conference play, the Sharks are jostling for a spot in the Florida College Systems Activities Association Tournament. Walker has determined to keep pushing the team toward a postseason berth.
"It's a goal for all of us," Walker said. "We want to keep getting better and stronger. Reaching States is what we've been wanting to do all season. Now we have to make sure we finish strong."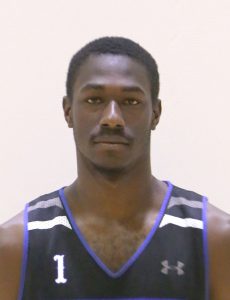 Tyler Tears ACL
Sophomore shooting guard Kaevon Tyler will be sidelined for the remainder of the season after suffering an ACL tear during a game against Monroe College Dec. 31.
He underwent surgery early last month.
Prior to his injury, Tyler averaged 7.9 points per game on 32.1 percent shooting.
Brownlee Leaves Sharks
Freshman guard Jshin "Jake" Brownlee left the basketball program at Miami Dade College on Dec. 31, citing family issues, according to Athletic Director Anthony Fiorenza.
"It's always difficult when situations like this happen," head coach Kevin Ledoux said.
Brownlee was averaging 7.5 points and 4.3 rebounds per game.
Brownlee did not respond to multiple attempts for a comment.
The Sharks next game is on the road against ASA College on Feb. 16 at 4 p.m.