Freshman Continuing Sister's Legacy With Lady Sharks
Raissa Bianco is used to following in her sister's footsteps.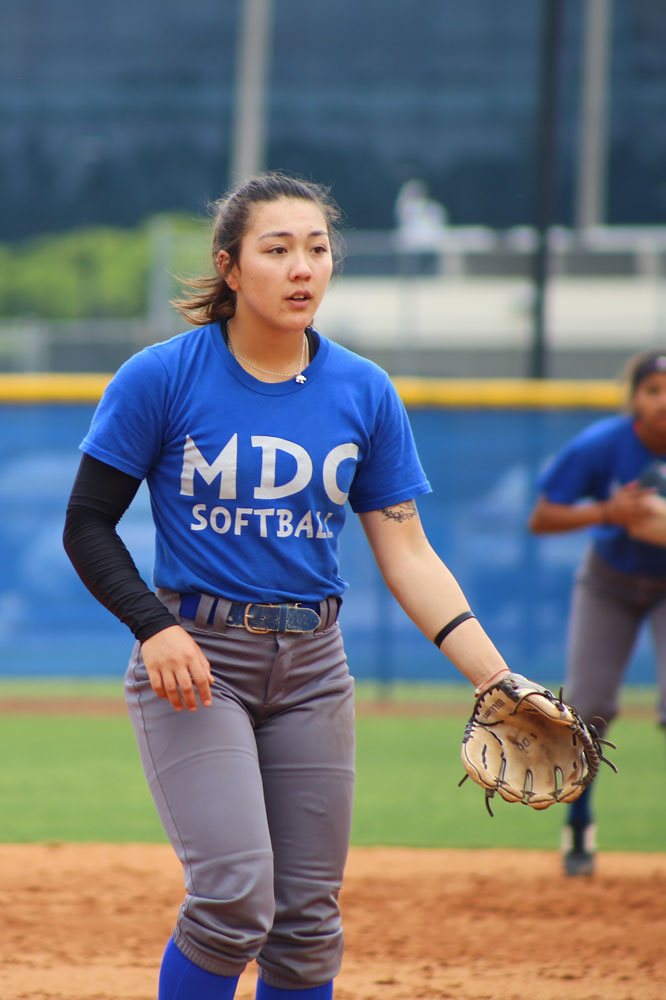 When she was four years old, Raissa watched her sister Raquelli's baseball practice and mimicked her moves in Pinhais, Brazil.
Seven years later when Raquelli made the transition from baseball to softball, Raissa did the same. 
So it was almost inevitable that Raissa would follow Raquelli to Miami Dade College, where the older sibling carved out an impressive career from 2012-14 winning 10 games as a freshman and hitting eight home runs the following season. 
"[They] are very competitive," said Lady Sharks' Head Coach Gina De Agüero, who has coached both sisters. "They are very hard on themselves and definitely do not settle for mediocrity."
Like her sister, Raissa is a dual-threat. The freshman is a starting pitcher and a third baseman for the Lady Sharks. Through 30 games, she is hitting .442, leads the team in home runs (three) and RBI (27), and is 5-3 on the mound with 50 strikeouts. 
"People think because I'm the older sister that she is the one looking up to me and following my footsteps, but in my opinion, it's the complete opposite," Raquelli said. "I admire her passion, work ethic, discipline and [the] kindness she shows in everything she does. She makes it easy to be proud of her."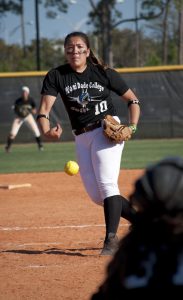 Raissa started playing softball when she was 11 for Central Glória, one of the few teams in Brazil. But problems arose when Raissa's team was disbanded, so she started playing baseball. 
Her baseball career took her to Taipei City, Chinese Taipei where her Brazilian national team was invited to the II IBAF 12U Baseball World Cup in 2013. The team finished in 8th place in the tournament.
As a teenager, Raissa traveled to Miami to work on her game during the summers. She stayed at the home of Ashley Knapp, who is now her teammate with the Lady Sharks. 
Raissa, 19, ended up at MDC after De Agüero invited her to practice with the Lady Sharks in the summer of 2019, and offered her a scholarship afterward. 
"We've been through a lot of ups and downs together," said Knapp, who is now a sophomore infielder at MDC. "When I've gone through hitting slumps, she's gone with me to the cages to go practice." 
Raissa is now helping the Lady Sharks navigate a rough start. They are 10-19 and have lost five in a row with a bevy of Southern Conference games coming up.  
They are counting on Raissa and a trio of outfielders to elevate their play. Alexandra Jugenheimer leads the team with a .460 batting average, Tara Melassi has two home runs and has scored 12 runs and Amber Dalfonso is batting .354 with 16 runs scored and seven RBI.
 "Sometimes we play as individuals, and not as a team," Raissa said. " We need to work and figure it out."