Former Shark Breaks Minor League Record, Strikes Out 12 In A Row
Former Sharks pitching ace, Yusniel Padron-Artiles, set a minor league record, striking out 12 consecutive batters in game for the Boston Red Sox's minor league affiliate the Lowell Spinners on Sept. 5.
The right-hander struck out 14 batters during six shutout innings of relief, in the Spinners 2-1 playoff win versus the Batavia Muckdogs, a Class-A affiliate of the Miami Marlins. He allowed one hit, an infield single, during the game.  
"I arrived at the stadium normally. I was just more concentrated and focused," said Padron-Artiles, who was drafted in the 22nd round of the 2018 Major League Baseball Draft by the Boston Red Sox's organization after one season at Miami Dade College . "I saw the game as 0-0 but mentally, I was locked in. I just played ball." 
After the win, Padron-Artiles and the Spinners advanced to the New York-Penn League finals versus the Brooklyn Cyclone, a New York Mets affiliate. They lost two games to one in the championship round.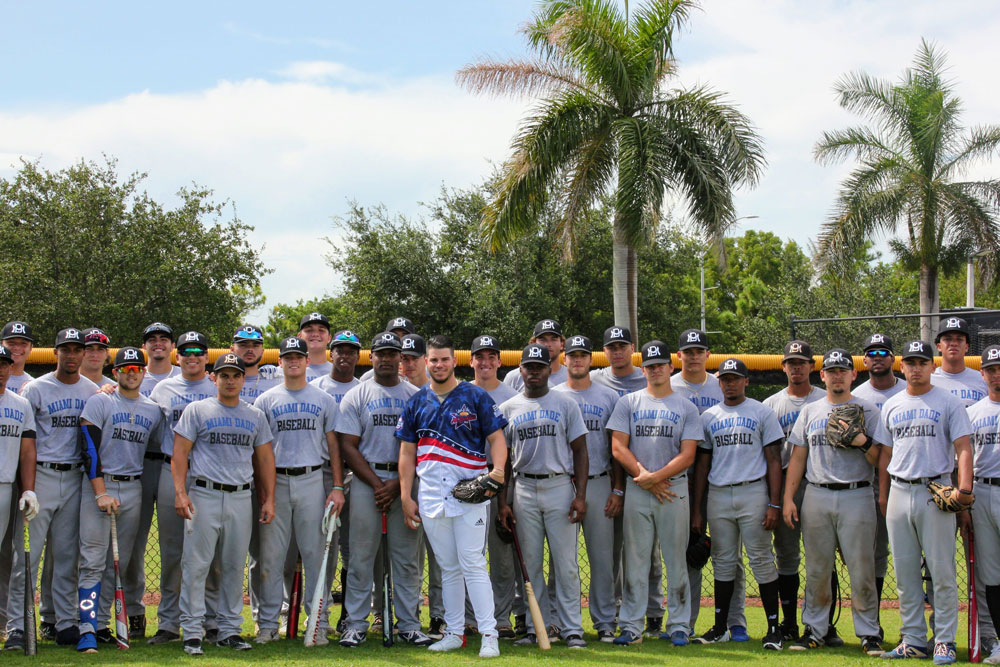 The 21-year-old's journey to professional ball has taken some detours along the way.  He represented Cuba at the 2015 U-18 Baseball World Cup in Japan. A few months later, the Havana-born prospect, fled the island in October of 2015 with his mom, Damaris Artiles, and his dad, William Padron. They hopscotched the globe, traveling through Russia, Serbia, Germany and Mexico before arriving in Miami. 
Padron-Artiles soon enrolled at Miami Springs Senior High School before joining the MDC baseball team in January of 2018. In his lone season as a Shark, he posted an 8-3 record with a 2.17 ERA. He averaged 8.35 strikeouts per game. 
"He was our number one pitcher. A great kid and hard worker," said Danny Price, who was the team's head coach that year. "He kept getting better and better. He had this sense of flair about him, like a flair of greatness."
Shortly after that season, he was drafted by the Boston Red Soxs and he was designated to the Lowell Spinners. 
"It was a big day,"  Padron-Artiles said. "A dream come true." 
Despite arriving as a late-round draft pick, he delivered for the Spinners whenever he took the mound. Padron-Artiles was 7-1 as a starter, averaging 11.5 strikeouts per game in the New York-Penn League.  For his efforts, he was selected to the 2019 New York-Penn League All-Star Game. During the season, he masterfully mixed his 90 MPH fastball with a curveball and changeup to keep batters off balance.  
He credits his passion for baseball for getting him this far. 
So what's next?
"I don't think about it," Padron-Artiles said. "The dream is to still be in the Major Leagues."