Former Pulitzer Prize-Nominated Writer Releases $350 Poetry Collection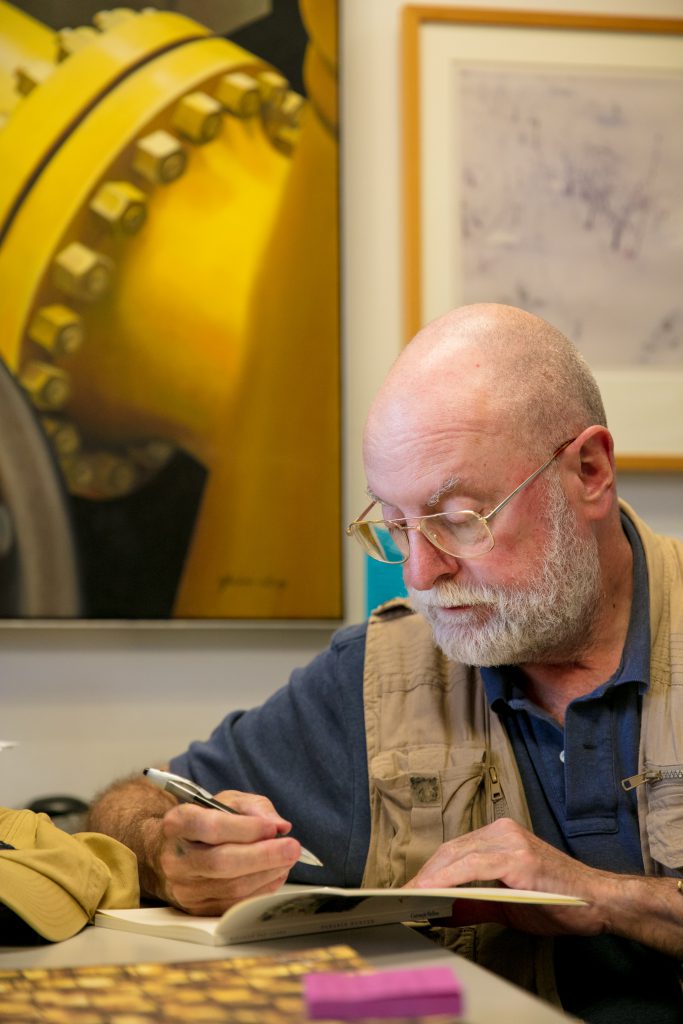 Kendall Campus English professor Ricardo Pau-Llosa released a bilingual, 100 copy poetry collection, Intruder Between Rivers/ Intruso Entre Ríos, in late December.
The book priced at $350 per copy contains 25 published poems written in English by Pau-Llosa along with Enrico Mario Santí's Spanish translations.
The book, published by Del Centro Editores, is clothbound and hand stitched in Madrid, signed by the poet and the translator and individually numbered. The poems are categorized by four sections: Historia, casi memoria (History, almost memory), Écfrasis (Ekphrasis), Sueño del tiempo (Dream of time) and Justicia, tal vez (Justice perhaps).
"It's not a regular publication. It's a very artisanal, handmade book— it has no ISBN number," Pau-Llosa said. "We did this bizzare crazy thing and then we thought 'my God, what do we do with this?' and now everyone wants it so we're selling it at 350 bucks."
The title is a combination of two of Pau-Llosa's poems, The Intruder, which is inspired by Julio Larraz's painting of the same name that appears on the cover, and Dos Rios (Two Rivers), based on the place where José Martí died, and Pau-Llosa's comparison on Cuban and American culture with two rivers.
"This whole idea of water flowing this way and that [way] and you're like in the middle— you're like in a charco (puddle) somewhere— there's a big torrent going this way and the other way and that way and you're just trying to be somewhere in the middle and not get carried by the corriente (current)," Pau-Llosa said.
When Santí first started translating Pau-Llosa's poems, he began translating Cuba inspired poems from Pau-Llosa's poetry collection, Cuba.
"My whole point of doing translations from that book has to do with being very intrigued on how those poems in English about Cuba would sound in Spanish translated by Cuba— that's the whole idea," Santí said. "Since he had written the poem in English and it was about Cuba, what I wanted to do was to make it available for Cuba to read it in Spanish."
The two met through a mutual friend, Cuban composer Aurelio de la Vega, at his house in Los Angeles. Years later, they started piecing together Intruder Between Rivers/ Intruso Entre Ríos.
"Intruder Between Rivers is the result of our relationship during the last two years, but Intruder Between Rivers includes a number of poems that don't have a Cuba theme," Santí said.  "So, after I started translating Cuba related poems, I discovered other poems that he has written that are not Cuba inspired and again the challenge there was not so much to make the English poem about Cuba available. The point was to make other poems that are not Cuba related available as well."
Pau-Llosa and Santí were exiles from Cuba in the 1960's. Santí fled Cuba in 1962 and Pau-Llosa in 1960.  Both have produced a large range of works. Pau-Llosa has produced seven poetry collections and is an avid collector of Latin American art. His poetry collection, Cuba, was nominated for a Pulitzer Prize in 1993.
Santí holds a research position at Claremont Graduate University, with previous stints at Cornell University, Duke University, Georgetown University and the University of Kentucky. He also held the Emilio Bacardí Moreau Visiting Professorship of Cuban Studies at the University of Miami.
Throughout his educational career, Santí has also written 10 books.
Santí and Pau-Llosa will continue collaborating. They plan to release a larger collection of translations at a cheaper price for university students. Pau-Llosa is also releasing his eighth poetry collection in the fall through Carnegie Mellon Press.
"[It's] the first time that such a comprehensive set of translations have been put together and published," Pau-Llosa said. "So, that the translations, given the fact that I'm fluent in Spanish and I did not do the translation, enables me to look into the mind of a reader, a sophisticated one at that."