Former NFL Player Living Out His Dream At North Campus Police Academy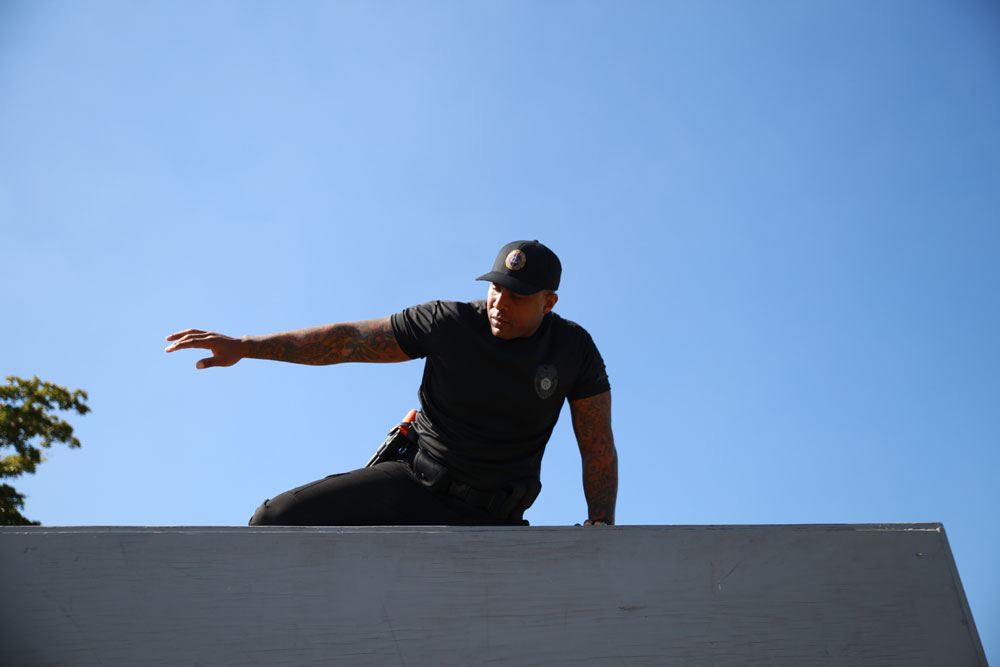 For as long as he can remember, Kareem Brown, wanted to be like the heroes he saw on television, but his dream didn't involve superpowers—he wanted to be a cop.  
"Just being able to help the community and get drugs off the street and put bad guys behind bars, making a difference, is what I always wanted to do," said Brown, who starred as a defensive lineman at the University of Miami before playing five years in the National Football League. "I've always been that person, either in football or in coaching, that when it came time to help people out, I was first in line to help them out. As a kid watching shows like Cops and movies with police officers, I just thought it was the coolest thing on earth."
Brown, who is 36 years old now, is living out his dream at the police academy at Miami Dade College North Campus. He enrolled in the School of Justice's Florida Law Enforcement Academy last August. Brown is scheduled to graduate on Feb. 20 and will be a school resource officer for the Miami-Dade Schools Police Department.   
"The experience has been eye-opening," Brown said. "Every day you have to be willing to sacrifice your life for a complete stranger. When you hear it, it sounds simple but it brings everything into perspective. You say things like 'Can I do this?' and when I asked myself that question, I answered that I could because all my life, I've dedicated it to helping those around me."
Brown is currently ranked in the top three academically, out of 33 recruits, in his class. He is in the running to receive the physical training award at graduation. To receive the award, recruits need the top time in the mile-and-a-half run, 300 yard dash, and must do the most sit-ups, pushups and record the highest vertical leap.
His days at the academy are rigorous. Brown attends classes from 6 a.m. to 5 p.m. The training includes 80 hours of firearms training, 50 hours of first aid training, 44 hours of vehicular operations training and 80 hours of defense tactics training. Students must then pass a state-required exam certifying they are qualified to be a police officer.
"I think working in the schools is a great fit for him because of what he wants to do," said captain Nelson Santos, one of Brown's instructors at the academy. "You can tell that he has the ability to speak to others and associate with them. Because of his upbringing as the youngest child and the NFL, he's an incredibly competitive person with a very high drive."
Brown's journey to the police academy is not like many of his fellow recruits.  
After graduating from Miami Norland Senior High School in 2001, he accepted a scholarship to play football at the University of Miami.
At UM, he accrued 14 sacks and 77 total tackles during three years. He had his breakout year as a junior in 2006, earning second-team All Atlantic Coastal Conference honors while collecting 4 ½ sacks, 44 total tackles and 8 ½ tackles for loss on the season.
That April, Brown was selected in the fourth round of the 2006 NFL draft by New England. He played one season for the Patriots.
Brown spent the next three years with the New York Jets and his final season on the Tennessee Titans practice squad in 2010. He was forced to retire from the NFL after sustaining a left shoulder injury.
In 2011, he connected with fellow UM alum, Mario Cristobal, who at the time was the head football coach at Florida International University. Cristobal offered Brown a role on the Panthers as a defensive line assistant.
The following year Brown returned to UM, accepting a role as a graduate assistant on then head coach Al Golden's staff. For the next three years, he split his time in the classroom earning his master's degree in criminal justice and coaching the team's defensive line and outside linebackers.
In 2016, he served as director of player development for then incoming head coach Mark Richt. Brown helped prepare students-athletes for academic and athletic success while adhering to National Collegiate Athletic Association and university standards. A year later, he left UM.
Armed with a bachelor's and a master's degree in criminal justice, Brown started the next chapter of his life at MDC to pursue a career in law enforcement.
"I felt that after everything I had learned and the hours, I had grown accustomed to. It was conducive to the lifestyle I wanted to live," Brown said. "Being able to still be in schools and mentor and be a role model is a perfect fit for me."
Brown believes that to make a change, you have to tap into the younger generation.
"Nine times out of ten, when you're talking to adults, they're already set in their ways," Brown said. "Kids are still impressionable. If I'm a policeman and I get to sit down with a 13, a 14-year-old kid that I see may be heading down the wrong path, I may be the difference that sets them on the straight and narrow."
The six-foot-five-inch, 275-pound former defensive lineman hopes to draw from his past as a professional football player to connect with the community.
"He always conducts himself with dignity," said Shawnee Fross, firearms and defense tactics manager at the School of Justice. "He knows that people look up to him, literally. He's the kind of person who wants to use his past to help relate to the students."
Brown knows he is nearing his goal of becoming a police officer. He mentally crosses off each day, with only a few weeks left in the academy.    
"I always wanted to be remembered for just making a change, having a positive impact on everyone that I come across," Brown said. "This is my dream."