Former MDC Baseball Player Makes Toronto Blue Jays Roster; Gets First Big League Hit
Four years ago, Santiago Espinal was a slick-fielding shortstop at Miami Dade College with major dreams.  
Last week, the 25-year-old made his Major League Baseball debut on July 25 for the Toronto Blue Jays. Espinal, who made the Blue Jays' expanded 30-man roster, went 0-2 and struck out in his first at-bat against the Tampa Bay Rays' Ryan Yarbrough.
Three days later, Espinal collected his first base hit—a line drive to left field—in the top of the 9th inning in the Blue Jays' 5-1 victory over the defending champions, the Washington Nationals.
"It was a 2-0 count and I knew the guy was gonna come with a fastball, so I took advantage of that opportunity," said Espinal, who dedicated his first hit to his mother—Ingrid Rivera—who passed away in December of cancer. "As soon as I saw the ball drop, I just took a deep breath and I was like— finally."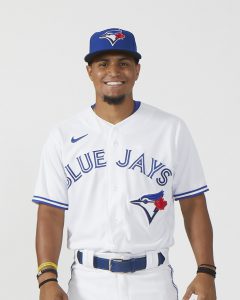 Through five games, Espinal is batting .091 with one base hit, one stolen base and one run scored. Despite the slow start, he is providing steady defense, battling shortstop Bo Bichette and second baseman Joe Panik for playing time. 
The versatile infielder—who plays second base, shortstop and third base—joins Chicago Cubs' catcher Victor Caratini and Angels' outfielder Brian Goodwin as the other MDC alumni on Major League Baseball rosters this season. 
"I'm here to try to help the team win a championship," Espinal said. "Every time they put me in,  I'm gonna do my best. I'm 100% gonna work hard."
Espinal, who was born in the Dominican Republic, came to the United States when he was 12. He played baseball at Lyman High School in Longwood, Florida for four years, but didn't graduate because he struggled to learn English, eventually attaining his diploma in 2014 from Penn Foster High School, a for-profit school in Scranton, Pennsylvania.
The following season, he attended Seminole State College in Orlando, but continued to struggle academically and never played a game for the Raiders. While playing in the Florida League that summer, he caught the attention of Danny Price—then the head baseball coach at MDC—after being named the league's Most Valuable Player.
At MDC, Espinal's career took off. As a freshman, he led the team in singles (70), runs scored (38), stolen bases (15), triples (4) and batting average (.432). He was named Southern Conference Player of the Year, and was selected to the Florida College System Athletic  Association All-State First Team and National Junior College Athletic Association Division I All-Region team.
"He was one of the guys who wasn't supposed to make it," Price said. "But, he took school very seriously. He got the help he needed. He got a chance."
Following his impressive freshman campaign, Espinal was drafted in the 10th round of the 2016 MLB Draft by the Boston Red Sox. During parts of three seasons in the Red Sox system, he played for the Gulf Coast League Rays, the Greenville Drive, a Class A affiliate, and the Salem Red Sox, an advanced Class A affiliate.  
His best season in the Red Sox system was in 2018 in Salem. He hit seven home runs, boasted a .313 batting average, scored 53 runs and had 80 hits in 65 games. 
That June, the Red Sox traded him to the Toronto Blue Jays for left fielder Steve Pearce and $1.5 million. Pearce won the World Series that year and was named series MVP after he hit three home runs and eight RBI to help the Red Sox defeat the Los Angeles Dodgers. 
Before making the Major Leagues, Espinal last played for the Buffalo Bisons, the Blue Jays AAA affiliate. He batted .317 with two home runs and 23 RBI in 28 games.
"Everybody who knows [Espinal] is proud," Price said. "This is a story about a guy who never gave up, who was a long shot. But he got there. I'm proud of him."