Former Foster Care Kid Living Out Her Dream At The Miami Culinary Institute
Overcoming foster care can be a daunting challenge for many.
Precious Oden entered the system as a baby. At three, she was adopted by Jackie and Henry Oden.
They encouraged her to dream big.
When Oden was a child, she aspired to be a basketball star. But after watching the Disney Channel original movie Eddie's Million Dollar Cook-Off, she set her sights on becoming a chef. With her mom's help, she learned how to cook.
Today, Oden, 24, is a student at the Miami Culinary Institute at Wolfson Campus. She received a scholarship from the MagicWaste Youth Foundation that helps foster kids pursue a college education. The scholarship pays for her tuition.  
"This was a second chance that most people don't get and I will always be grateful for that," Oden said. "It encouraged me to work hard and persevere."
Being the oldest of eight kids and the first to pursue a college degree, she wants to be a role model for her siblings.
"Getting a degree is more than just about learning but about my hope for the future," said Oden who is expected to graduate in the fall of 2021 with an associates in science in culinary arts management. "My time at the Culinary Institute has taught me a lot about leadership skills and how to be a better leader."
Oden has struggled with conforming to the school's kitchen procedures at MCI. For example, during a recent lab session, she threw an egg in the trash underhanded instead of overhanded. She quickly corrected the mistake.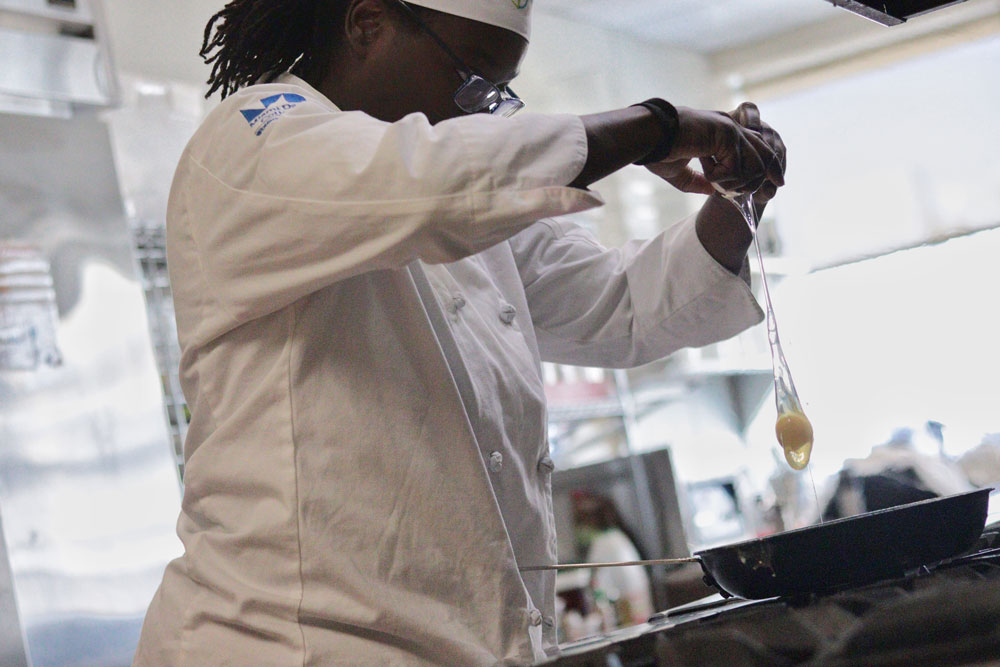 In her first semester Oden has learned a variety of skills including cooking techniques, recipe production, knife skills, kitchen terminology and calculating food cost. She also learned how to explain and implement industry sanitation methods as it pertains to food preparation.
Oden's most memorable moment at the Culinary Institute thus far came when she was tasked with making pasta out of ordinary food items, hers was a potato. Making gnocchi is no easy task as balancing three ratios can make or break the dishes defining texture. It took Oden two attempts before she was able to create the perfect silky-smooth texture and complete the task.
"I had no idea how I was going to do it but I did it," Oden said.
Oden is excited to start basic baking class soon to learn how to make a lemon meringue pie—her favorite dessert. In the course, Oden will also learn the functions of various baking ingredients and how to execute recipes and competencies including dough, bread, cookies, pies, puff pastries, quick bread, cakes and basic decorating techniques.
She enjoys creating her own dishes in American cuisine but dabbles in international food as well. Oden hopes to one day start a food cart business. She will focus on adding her own twist to American cuisine.
Chef Patrick McCurry, a senior instructor at the Culinary Institute and one of Oden's mentors, believes she is well on her way.  
"The thing I like the most about [Precious]," McCurry said, "is that she's got a pure love and joy for food that you don't really see that much anymore in our industry."