Edible Garden Brings Sustainable Living To Wolfson Campus
Ingrid Salamanca munches on leaves growing from a lime tree inside a lush botanical garden.
The 23-year-old student at Miami Dade College shares the crunchy leaves with friends, all of whom meet every Wednesday morning to cultivate the area's vast collection of organic produce at Wolfson Campus. 
It allows her to form a connection to the food she prepares and cooks as a student at the Miami Culinary Institute. 
"I feel like if I have my own restaurant. I would like to know how to grow them," Salamanca said. "I prefer everything to be natural and grown by me."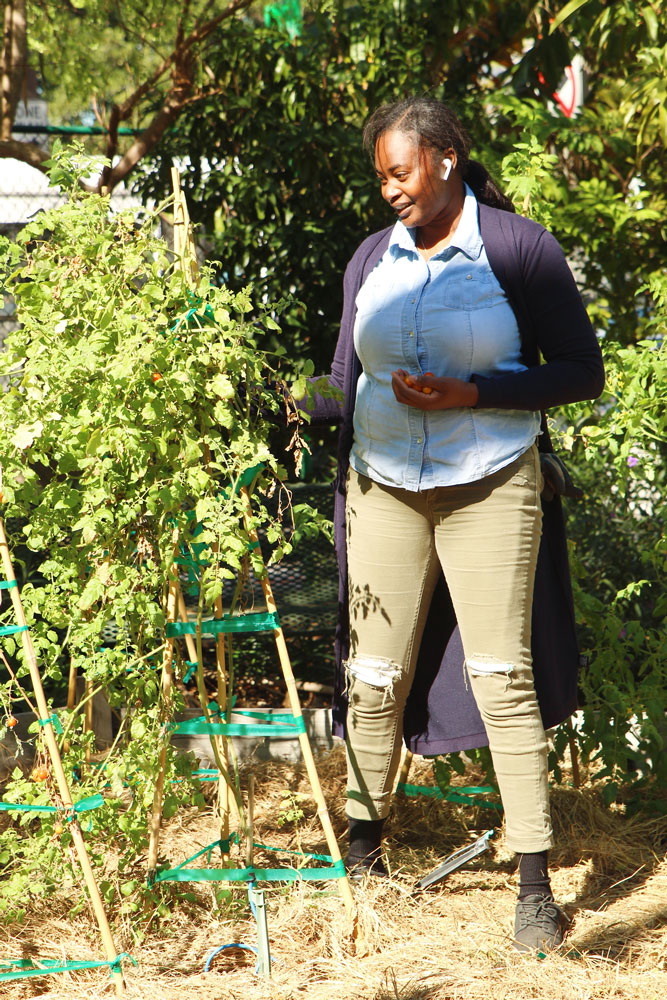 Salamanca is one of several students volunteering at the Miami Culinary Institute Garden, an organic edible space behind Wolfson Campus' parking garage in the 7000 building. 
The garden, which opened in 2011, aims to promote sustainable eating. 
Everything grown in the Culinary Garden is given back to MCI to teach food preparation classes. Any leftovers are donated to the Tuyo Restaurant at Wolfson Campus to prepare meals. 
"Fresh ingredients make a difference," said John Kane, chair of the MCI.
Waste produced at the restaurant is given back to the garden to create compost piles. 
The area is sandwiched between busy roads and tall skyscrapers on the corner of N.E. 6th St. and N.E. 1st Ave.
Crops are grown every year from October to April by MCI students and volunteers through service learning provided by the Earth Ethics Institute. They harvest and grow plants every Wednesday morning.
The MCI opened the space as a way to help students understand where their food comes from. Kane said it's an eye-opening experience for culinary students, because many haven't been able to work with locally-sourced, organic produce in their dishes. 
They work with Little River, an urban farming company based in Downtown Miami, to select the plants that are grown to ensure every plant is harvested. 
"It pushed chefs to be more creative," said Heidi Lellelid, program specialist of the Earth Ethics Institute. "This hopefully helps them create more interesting dishes."
The project was designed by Natural Greenscape, an organic farming and edible landscape company based in South Florida. They assembled the space to feature round walking paths surrounded by four plots of soil, wooden benches and metal picnic tables. 
Gabriele Marewski, owner of the organic garden Paradise Farms, was later charged with cultivating the garden's produce. Now, the space grows a variety of edible plants such as parsley, chives, mint, eggplants, tomatoes, among others. 
"It's more than I can count," Lellelid said.  
The space has gone through several contractors that have maintained the garden's upkeep over the years. 
Last October, the MCI began working with Little River to restore the garden's facade. The space had been impacted throughout the years from lack of use, poor soil conditions and pests in the area. 
"It was okay, but there were a lot of things to be improved," said Muirel Olivares, co-partner of Little River. 
Little River worked on the space by taming plant overgrowth and replacing plants impacted by the damage. They've since added ten new species of edible plants like red veined sorrel and tatsoi, as well as creating circular paths around the plants so that students won't step on them. 
After the growing season ends in April, the Culinary Garden is faced with threats of crop damage from pests and summer heat. Little River plans to cover the crops, and focus their efforts on giving nutrients to the plants instead of growing new ones. 
They also want to promote productivity by assigning student volunteers a list of plants to research every week to better understand what crops they are growing. 
"We want students to be more comfortable," Olivares said.
Staff writer Heidi Perez-Moreno contributed to this story.