Dyer Relishes New Role As Director Of Athletics At Miami Dade College
When Miami Dade College's volleyball team won the National Junior College Athletic Association National Championship in 2016, Alysia Dyer did her best to support the players. 
She took pictures, cheered every point they scored and kept the media updated on their feats.
"She's our number one fan," said Lady Sharks volleyball coach Origenes "Kiko" Benoit. 
Dyer exudes that same enthusiasm when she helps student-athletes off the court.
She advises them on the courses they need to transfer, organizes study hall sessions and makes sure that international players receive the scholarship money they depend on.   
Now, Dyer is focusing her energy on being MDC's director of athletics. She was promoted to the position in March after serving as interim director for five months.
"I was ecstatic," Dyer said. "For a couple of days, I didn't really believe that I was offered that position. Once you go back and reflect on things, you know you've worked hard, you know you've proved yourself and you know that you have that vision and mindset to be able to accomplish such an important job for the [college]." 
The Early Years
Dyer was born in Miami on Feb. 20, 1983. Her passion for sports began when she was 9 years old. She played volleyball, football and soccer, but found a special bond with basketball. 
"The love for basketball just kind of grew into my whole love of sports," Dyer said. "Growing up, you kind of get to participate in everything. But I've definitely found love in playing basketball. I've been playing basketball pretty much my whole life."
Dyer was a guard/forward on the varsity basketball team at Miami Killian Senior High School for four years. She was a second team All-Dade selection in her senior year in 2001.
After graduating high school, she enrolled at the University of Florida to pursue a bachelor's degree in athletic training. She tried to make the women's basketball team as a walk-on, but the difficulty of her courses prevented her from playing any official games.
She eventually changed her major and graduated with a bachelor's degree in exercise and sports science in 2005. She returned to Miami, and started running the youth sports program at the South Dade YMCA Family Center. 
Applying The Knowledge
In 2007, she earned a master's degree in sports administration from St. Thomas University.
That year, she started working at Kendall Campus as the sports information director under James Cox, the director of athletics at the time. She updated the website and rosters, organized team pictures and managed the athletic department's social media accounts.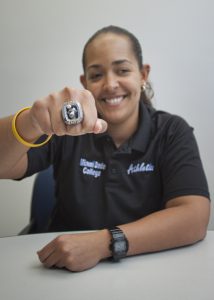 Two months after getting the job at MDC, Dyer started working as a stats crew runner for the Miami Heat. She got the part-time gig with the help of Cox, who worked as the team's gameday crew chief in the Sports Media Relations department.
Dyer inputs live stats, does the official gamebooks and reviews game footage. The job comes with some perks—she received an NBA championship ring in 2012 and 2013, and attends home games for free.
"They kind of throw you into the fire and teach you right on the spot how to do it," Dyer said. "But I was able to learn and catch on quickly."  
In June of 2010, Dyer was promoted to assistant director of athletics at MDC. She helped the former director of athletics Anthony Fiorenza run the department for nine years.
"She's a fantastic person," Fiorenza said. "She's valuable because she has the knowledge, she participated in athletics, works hard, cares for the athletes and cares for the College."
When Fiorenza retired last October, Dyer became interim director of athletics. The interim label was removed, three days after sports were canceled due to the coronavirus.
Now, Dyer oversees the College's five-team athletic program. She manages the budget, schedules practices and games and ensures that student-athletes are in compliance with NJCAA rules.
She has been busy crafting the College's healthy and safety rules using the Centers for Disease Control and Prevention guidelines and state and local regulations. Once approved by the College president, they will be implemented at games when sports return on campus in August. 
Despite her responsibilities, Dyer finds time to have fun. She enjoys going to the beach, on outdoor bicycle rides and plays the drums. 
Dyer is also an avid sneakers collector—she has more than 100 shoes in a room at her home. Her favorite brands are Jordan 11 Retros and Nike Air Maxs.
"She understands the life of an athlete," Benoit said."That's always a plus when you have someone who can relate to the student-athletes."