Desmond Meade Spent Three Years in Prison—Now He Wants His Voting Rights Back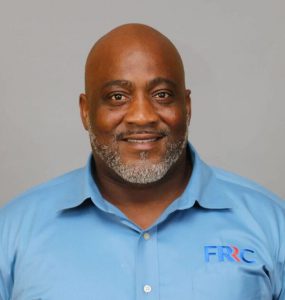 Desmond Meade wants his voting rights back.
Almost two decades ago, Meade spent three years in prison after a drug charge conviction. After prison, Meade fought through homelessness to attain a bachelor's degree from Miami Dade College and a law degree from Florida International University.
Today, the 51-year-old is president of the Florida Rights Restoration Coalition, an organization working to restore voting rights to convicted felons through Amendment 4. The amendment is on the ballot next month; it seeks to allow felons who served their time to regain the right to vote without the need to appear before a clemency board so long as they have completed all terms of their sentence, including parole or probation. The amendment does not automatically grant rights to people convicted of murder or sexual offenses.
"I've already paid my debt, that's the bottom line," Meade said.
Meade, who currently lives in Orlando, is a sterling example of redemption. But his resurrection didn't happen overnight. He spent years living in a homeless shelter after prison as he sought ways to better himself. That led him to libraries in downtown Miami. He used the Metromover to shuttle himself between the main public library, libraries at courthouses and, eventually, the library at Wolfson Campus.
When he was 38, Meade enrolled at MDC's downtown campus.
"Part of me wanting to get a college degree was me wanting to do something that would make me feel better about myself," Meade said. "Being able to attend MDC gave me the opportunity to do so."
That original goal led him to another calling: community service. Meade began working with MDC's Institute for Civic Engagement and Democracy, led by Joshua Young.
"Desmond is one of the most inspirational leaders and people I've ever met," Young said. "Through our office, he got involved in all kinds of service projects. He was a very enthusiastic participant and did an excellent job in getting his classmates involved in service."
Meade also used the work being done by his Wolfson Campus professors Samantha Carlo, Mercedes Medina and Danixia Cuevas as a model.
"They've been champions of justice," Meade said. "What I looked at at the end of the day was that they were engaged in activities that empowered people of color. That gave people hope."
Meade graduated from North Campus' criminal justice program in 2010 and from Florida International University's law school in 2014, all while working with the FRRC. However, due to his conviction, he can't practice law until his rights are restored.
Meade's work isn't limited to the FRRC. He is also the chair of Floridians for a Fair Democracy, the political committee sponsoring the amendment, and has received support from organizations such as the ACLU, NAACP and the Florida League of Women Voters.
"Service to others services your own community," Meade said. "That's the biggest honor you can have."
Juan Mendieta, director of communications for MDC, said in a statement that MDC believes in restoring the rights of felons as it then leads to drops in incarceration.
"People who've paid their debt to society deserve a second chance and all studies show that once these people register to vote and take other steps to participate in society, their rate of recidivism and reincarceration drops dramatically," Mendieta said.
That is the goal of Amendment 4. Florida is one of four states—the others being Iowa, Kentucky and Virginia, with 23 other states restoring rights since 1997— to disenfranchise felons from voting, as the original state constitution prohibited the restoration of these rights and subsequent revisions never adapted. This applies to approximately 1.6 million residents, about ten percent of the voting-age population.
Under Governor Rick Scott, who is also the Republican nominee for the U.S. Senate, felons must appear before a clemency board in Tallahassee—currently chaired by Scott, along with Attorney General Pam Bondi, Commissioner of Agriculture Adam Putnam and Chief Financial Officer Jimmy Patronis—and appeal for their rights to be restored. Since 2011, the office has heard more than 100,000 cases and restored about 2,000 rights, leaving more than 20,000 cases pending.
In February, a federal district judge in Tallahassee ruled the board unconstitutional, but the ruling was later stayed by the U.S. Eleventh Circuit Court of Appeals.
In response to this process, the amendment hopes to provide another method for felons—"returning citizens," as the FRRC labels them—to re-engage in society.
The amendment has received some pushback, mainly in Republican circles. Congressman Ron DeSantis, the Republican nominee for governor, said in a September interview with the Tampa Bay Times that he doesn't support an "automatic restoration of voting rights" for felons. His Democratic opponent, Tallahassee mayor Andrew Gillum, has voiced support for the amendment.
Meade's dream culminates next month as Florida voters weigh whether or not to pass Amendment 4, which requires 60 percent of the vote to pass. In a September University of North Florida poll of likely voters, 71 percent were likely to vote "YES" to the measure while 21 remain unopposed.
"It's a question of justice and values and what's so clearly right and wrong," Young said." He reminds me of [United States Congressman] John Lewis because he's so sincere. He's on the right side of history."