Dallas Duo With Miami Dade College Roots Win Big At Croquetapalooza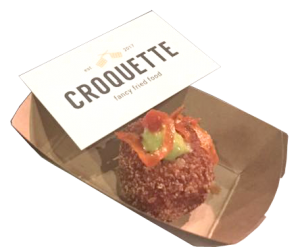 Everything's bigger in Texas took on a whole new meaning when a Dallas-based duo won the People's Choice award at Croquetapalooza in late August.
The award-winning croqueta, created by Miami Dade College alumni Gregory Castillo and Chris Cuan, who now live in Dallas, is called the "The Beyoncé," a concoction filled with barbecued brisket, jalapeno cheddar sausage, cheddar bay biscuits and elote Mexican corn mixed with pimento cheese that they grind by hand.
"I wanted it to hit every note that it can, sweet, savory, umami, spicy, some heat," Castillo said. "It's deep fried love."
The croqueta, named in honor of singer and Houston native Beyoncé, is also smothered in a Hatch chili salsa, made from imported New Mexico chilis, tomatillos and lime juice, perfect to contrast the meat's richness.  
"It really is a bite of Texas," said Cuan, who earned a bachelor's degree in supervision and management from MDC in 2014 and previously worked at the College's Idea Center. "It's a fat boy's dream come true."
Croquetapalooza is run by food blogger Sef Gonzalez—also known as the Burger Beast. Almost 1,000 people attended the event this year. Croquette won the 4th annual  People's Choice category competing against 15 other restaurants.
"We've been eating croquetas since we were kids," Castillo said. "So when we won, it was a  homage to not only our Cuban culture, but our home and their support for what we do."
The pair grew up in the 305 smelling the aroma of their parents and grandparents cooking emit from their kitchen. Castillo even attended culinary school for a bit. The experience took him into the kitchens of some of the best restaurants in South Florida, including Michy's Relaxed Dining, Michael's Genuine Food and Drink and Miami Beach's Yardbird Southern Table & Bar.
When Castillo, a former photo editor and part of the inaugural staff at The Reporter in 2010, landed a breaking news internship at the Dallas Morning News in 2014 he was influenced by Texas cooking. Soon, barbecue made its way into Castillo's Cuban cuisine.
A year later Castillo, 25, moved to Texas for good after landing a full-time gig as the multimedia producer at the Dallas Museum of Art. The following year, Cuan, 29, also moved to Dallas to work for the Network For Teaching Entrepreneurship.
This past March, Castillo and Cuan, who have been friends for 15 years, started talking about starting Croquette as a stand at the Dallas Farmers Market.
Croquette sold their first croqueta in June of this year, and nearly 70 days later, Castillo and Cuan won the People's Choice Best Croqueta Award at Croquetapalooza.
The Beyoncé is one of six croquetas in their rotation with new ones added whenever the duo want to experiment. Each croqueta goes for about $2.50.
"They're all concoctions and we have fun experimenting with different flavors," Castillo said
So what's next for Croquette?
"[It's] up in the air," Castillo said. "[We are] excited to be named among these restaurants and culinary institutions, [and to be] part of a culinary scene with the people we love."