DACA Student Graduates From UPenn Law School, Aspires To Tackle Immigration Policy
When Fred Toney told Gustavo Cardona he should apply to Tuskegee University, a historically black university, he couldn't believe the opportunity was real. 
As an undocumented immigrant from Colombia, Cardona didn't think he fit the bill.
"Tigers come in more than one color," Toney, formerly the assistant director of academic advisement at North Campus and a 1982 Tuskegee alum, recalls telling Cardona. 
Convinced he couldn't afford a bachelor's degree, Tuskegee was the only university the North Campus political science alum applied to in 2015. 
The risk paid off. 
Cardona is one of 21 Miami Dade College alums who have been awarded the Tuskegee University Transfer Merit Scholarship since 2014. It pays full tuition and includes an $800 book voucher. 
"My motto in life has been pa' delante—[it means] moving forward, keep it going," said Cardona, who earned a bachelor's degree in political science from Tuskegee in 2017. "That's something that Latinos think, and it's a good message to spread."
Cardona is living out that motto. He graduated from the law school at the University of Pennsylvania in May and hopes to create a better world for undocumented immigrants. 
"My dream is to be able to impact that space—immigrant rights, criminal rights and everything related," Cardona said.
The 28-year-old was born in Cartago, Colombia on Nov. 29, 1991. When he was seven, he arrived at John F. Kennedy International Airport in New York with his mother, Silvia Cardona. 
They moved to Stamford, Connecticut with his second cousins.  
"When you're an immigrant, you don't have much," Cardona said. "You just go wherever you have family, wherever you have support."
While attending Stamford High School, he worked as a caddie for four years at the Midway Golf Club. He carried golf clubs for players to support his mom financially.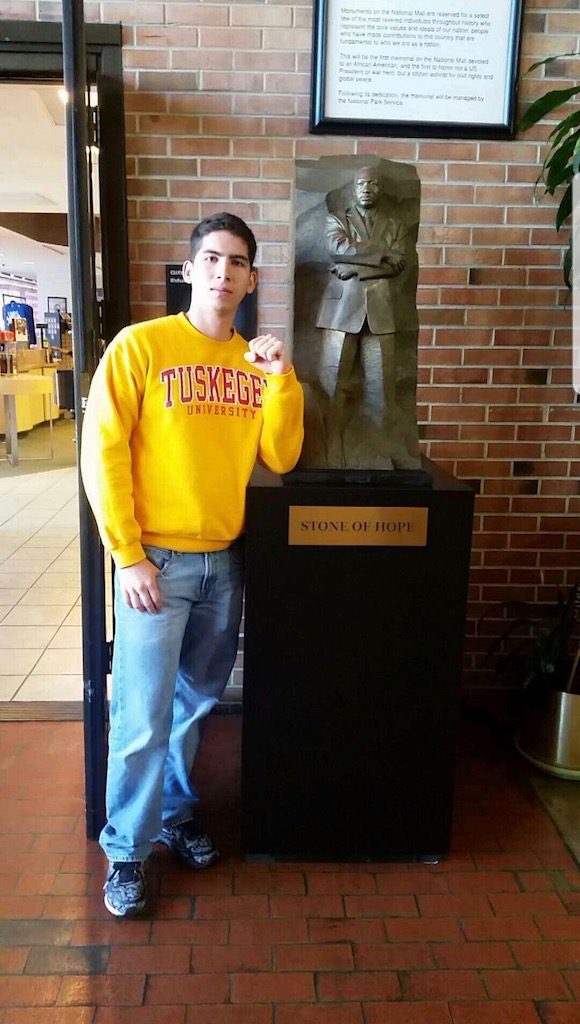 But life after high school became a trickier financial web.
He started as a full-time student at Norwalk Community College in Connecticut in September of 2010, but switched to part-time because he couldn't afford it. He dropped out a year later. 
In 2011, after his mother suffered a nerve fracture at work attempting to lift something, they moved to a friend's house in Miami. Cardona—who was 19 at the time—immediately began working to save money for school. 
Cardona worked as a subcontractor, installing curtains and making house repairs at hotels in Brickell and Miami Beach. 
But he soon discovered his educational options were limited. Most colleges and universities made him pay out-of-state fees because he didn't have a social security number. 
Cardona caught a break in 2012 when the Deferred Action for Childhood Arrivals policy came into effect. He was able to get a work permit and landed a job at Panera Bread. Two years later he started working as a bank teller at Wells Fargo. 
That allowed the undocumented student to take classes at North and Wolfson Campus. 
"I met some incredible people in Miami Dade [College] that helped me get where I am today," Cardona said. 
Undocumented students that graduate from a high school in Florida are eligible for in-state tuition at MDC, but since Cardona went to high school in Connecticut, he paid out-of-state tuition. That is almost four times the cost of in-state tuition. 
Eventually, Toney helped him secure a scholarship that reduced his cost for a full load of classes to $900 per semester until he graduated in 2015.  
"Gus is not risk-averse and he is open to the possibility," Toney said. "Gus is a dreamer who is not afraid to make his dreams come true."
When he left for Tuskegee University, Cardona transferred his position at Wells Fargo to a branch in Alabama, but stayed active on campus. 
The undocumented student joined Pi Sigma Alpha, the national political science honors society, and was elected a senator. Cardona also created a pre-law program that allowed students to prepare for the Law School Admission Test and worked with history professor Lisa Bratton to study contracts that slaves had to sign to work for white landowners after they were freed. 
"Gustavo was very good about and very much wanted to make sure that the students coming up behind him were thoroughly prepared," said Tammy Laughlin, Cardona's political science professor at Tuskegee. "In helping others you are sharpening your own skills, and he saw that. [He has] very much a servant's heart."
Thierno Thiam, who chairs the department of history and political science, remembers Cardona for his drive and desire. 
"In all of those classes, it became quite clear that he was one of those who was cut out to do great because he had the intellectual capability," Thiam said. "Most importantly, he has a big curiosity about essentially all kinds of aspects—including the theory about the world, the curiosity about the legal system that we currently live in."
After earning his bachelor's degree at Tuskegee, Cardona was accepted into the law school at UPenn. He quit his job to focus on his studies. 
In his first year of law school, Cardona joined student government. Last year, he participated in a charity event organized by UPenn's boxing club to help the Boys & Girls Club of Philadelphia. 
Cardona trained for a year to prepare for the event. He lost 20 pounds by running, cycling, sparring and working out at UPenn's gym.
"It was not about violence," Cardona said. "It was about fighting for what you believe in."
On May 18, he graduated from UPenn with a Juris Doctor degree. If he passes the bar, he will work at Ballard Spahr LLP, a law firm in Philadelphia.
"I really look forward to the accomplishments he'll have because I really believe that for him, this is just the beginning," Thiam said.