College Provost Makes Her Pitch To Be Next MDC President
Lenore Rodicio wants to be Miami Dade College's storyteller.
The lone internal candidate vying to replace sitting president Eduardo J. Padrón made her pitch to a room full of her colleagues on Tuesday.
"I will be a president who will honor our story," Rodicio said. "I will be a president who will help you create a new story for our future. But, more importantly, I will be your institution's storyteller."  
Rodicio reminded the audience—who, minutes later, would give her a standing ovation—that she was born and raised in Miami, save for the four years she pursued her graduate degree at Louisiana State University, and is deeply ingrained in the community.
"I currently live in Little Havana, go to church in Little Haiti," Rodicio said. "I love this community. I've grown up in it, seen it evolve and change over the last 40 years."
Rodicio, who began at the College in 2002 as a chemistry professor, believes the communities potential is intertwined with that of the College's students. She started her speech on Tuesday recanting the story of Stephanie, a former student and Haitian immigrant, who confided in her that she was struggling to grasp the English language while taking Rodicio's class.
Despite the language struggles, Stephanie passed the course with an A.
"Years later, I received a letter in the mail, a note from Stephanie with her picture," Rodicio said. "In her picture, she was wearing her MDC regalia, had graduated Phi Theta Kappa with Honors in chemistry, and went on to complete her baccalaureate degree at Florida International University. That is the story that we need to tell, and it's important because the story of Stephanie could be the story of any student at this institution. It could be the story of every student at this institution. Just like I can tell you the story of Stephanie, I can tell you the story of Sally, Sahili, Jessica, Collins, Guidien and his sister Emma and Ally, who's graduation I'm attending at UF on August 10," Rodicio said, as tears welled up in her eyes.
"They are the reason I come to work every day. People have asked me why I want to be president of this institution. For me, it's not about a job, or a promotion. To me, this institution is a vocation, and a calling."
Rodicio's presentation was the finale of a two-day open forum that featured the four finalist auditioning to be the next MDC president. Paul Broadie II, president of Housatonic Community College and Gateway Community College in Connecticut, presented earlier on Tuesday. His presentation focused on reducing socioeconomic gaps for students, the importance of finding outside funding for student programs and how the president of an academic institution has to be part of the fabric of the community.
"I will build on [Eduardo J. Padrón's] success," Broadie said. "We will bring new opportunities and ensure we have the most robust academic systems."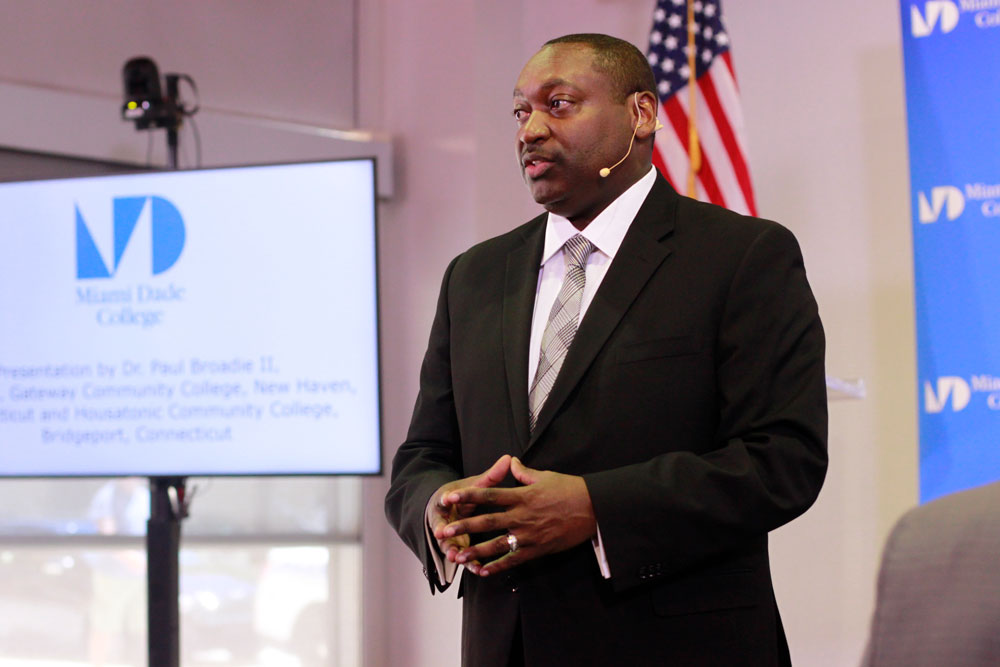 He began his presentation by saying that he was impressed with several facilities at the College including The Idea Center, MAGIC and the Miami Culinary Institute after he toured them.
"I went to the cybersecurity lab. I talked to a student, and it reminded me why I'm in the field of higher education," Broadie said. "It reminded me why I'm standing before you here today. It's for one singular reason—to touch lives."
Divina Grossman, president of the University of St. Augustine for Health Sciences, Reagan Romali, president-superintendent of Long Beach Community College District, began the forum with presentations on Monday.
Romali did not address a story by the Miami Herald last week that questioned whether she had settled disputes between three rival gangs while president at Harry S. Truman College, as she stated during her presidential search committee interview. She only alluded to what she called "a huge violence problem, a gun violence problem" in Chicago, providing screenshots of crime alerts posted by The Uptown Exchange, the student newspaper at Harry S. Truman College, via Twitter.
Grossman spoke about her experience in the local community. She emigrated to Miami from the Philippines in 1977, and worked at Florida International University in various capacities for more than 20 years. During her speech, she was greeted by two of her former nursing students including Marie Etienne, currently a nursing professor at Medical Campus.
"I think I would bring that commitment, passion, entrepreneurial spirit, the collaborative spirit," Grossman said during her closing remarks. "I would bring my tenacity. I don't give up. If I did, I wouldn't be standing here in front of you."
On Wednesday, the College's Board of Trustees will interview each of the four candidates throughout the day. The proceedings are open to the public at Wolfson Campus, 300 N.E 2nd Ave., Room 2106. You can also watch a livestream of the events at: www.mdc.edu/livestream/
The schedule will be as follows:
Reagan Romali at 8 a.m.
Paul Broadie II at 9:45 a.m.
Divina Grossman at 11:30 a.m.
Lenore Rodicio at 2 p.m.
The BOT is expected to select a new president by 3:45 p.m.