Ciro's Five Favorite MCU Films
With the release Avengers: Infinity War, the Marvel Cinematic Universe hype is through the roof. The MCU was an ambitious idea that has paid off extensively, with each film proving to be a massive commercial and critical success.
Each film has its fans and detractors, so here is a list of my five favorites. To keep things from getting too recent, I did not include Black Panther or Infinity War. Both films are excellent, but need a little time before being judged among the best of all time.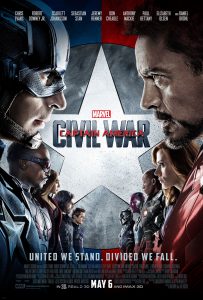 5. Captain America: Civil War (2016)
Director(s): Anthony and Joel Russo
Phase: Three
In 2014, the Russos took on their first MCU film with Captain America: The Winter Soldier. Known for directing the pilot episode of Arrested Development and a couple episodes of Community, the two successfully directed a great superhero film. Two years later, they brought one of the strongest MCU films in the canon with Civil War. Loosely based on the comic of the same name, the Avengers find themselves conflicted within their morals, with Captain America facing a moral dilemma. This is the one that shifted everything and leads perfectly into Infinity War. It has the usual Marvel trappings, but it also does a good job of balancing the heroes it introduces and welcomes back. Despite missing Hulk and Thor, Civil War introduced the world to Black Panther while giving audiences a glimpse of Tom Holland's take on Spider-Man. While the action itself wasn't too great, it delivered a lot of emotional depth, especially with a villain as reletable as Baron Zemo. Civil War was where the MCU saw real change, both in its fictional universe and in the way its stories were told.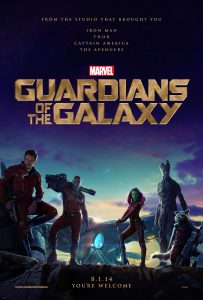 4. Guardians of the Galaxy (2014)
Director(s):James Gunn
Phase: Two
The writer of the two live-action Scooby-Doo films directed a sci-fi film starring the fat guy from Parks and Recreation and a talking raccoon. Sure, this sounds like a strange set up for a Simpsons joke but it turns out to be one of the freshest Marvel films in recent memory. Taking an obscure comic series and turning it into a smash hit, James Gunn's Guardians of the Galaxy effectively combines humor, science-fiction and a soundtrack that rivals a Tarantino film to make something truly unique. Coming at a time when superhero movies felt stale and big blockbusters were just overstuffed CGI-fests, along comes this gem of a romp to show the world that a group of ragtag misfits in space can save the world. Plus, props to Gunn for including Redbone's Come and Get Your Love.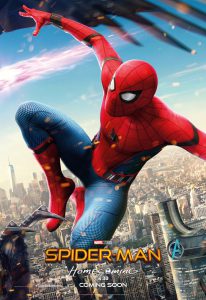 3. Spider-Man: Homecoming
Director(s): Jon Watts
Phase: Two
First things first: Hannibal Buress being canon in an MCU film is easily the greatest thing, ever. The first film in the MCU to star everyone's favorite bug-themed superhero (sorry Ant-Man), Spider-Man:Homecoming was a great look at the life of post-Civil War Peter Parker (Tom Holland). It was part coming-of-age story and part superhero flick, complete with Michael Keaton's turn as villain Vulture. It's a fun and totally-consistent film, full of all the usual tropes that come with a Spidey story. Here, the humor never feels forced or out of place. Instead, every joke feels right and every supporting character feels like they fit into the larger narrative. The action and special effects are the standard fare, but its the characters that make any Spider-Man film great. Thankfully, both good and evil characters deliver something worth watching.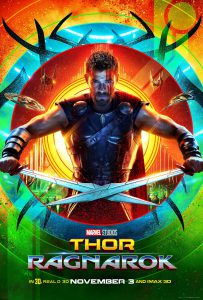 2. Thor: Ragnarok
Director(s): Taika Waititi
Phase: Three
Taika Waititi is much better known for directing the deadpan comedy What We Do in the Shadows. Those skills were put to good use with Thor: Ragnarok as it is the funniest film the Marvel canon. Taking on a lighter tone (and brighter palette) than most superhero movies, the third film in the Thor series changes things up by putting its titular hero's charm to good use. Thor: Ragnarok takes inspiration from all great campy '80s films, such as the gaudy and bright colors from Flash Gordon to the science-fiction spectacle that Star Wars was.Thor:Ragnarok sets new standards for comedic superhero films, standards that are going to pretty hard to top.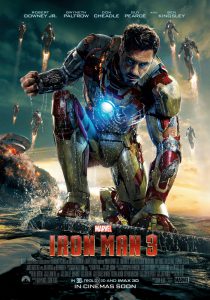 1. Iron Man 3
Director(s): Shane Black
Phase: Three
In 2008, Iron Man was released to major commercial success. It also propelled Robert Downey Jr. into the highest-grossing actor of all time territory. Before that, in the year 2005, Shane Black revitalized RDJ's career after near-collapse with Kiss Kiss Bang Bang. That film was Black's directorial debut and showed the world that Downey was a phenomenal actor (2008 also brought his performance in Tropic Thunder). Iron Man 3 was a match made in heaven. All of the great Shane Black-isms (narration, playing with time and a great love for noir storytelling) are present. What sets it apart is how well the story plays out. It plays on themes like age, post-traumatic stress disorder and the realization that no matter how powerful anyone may seem, it can all come to rapid end. Iron Man 3 not only elevated the MCU's storytelling but finally gave a great screenwriter/director his chance to shine with a big blockbuster. It's a film that made me fall in love with the MCU and one that gets better with each and every viewing.
Excelsior, my friends.