From A Bull To A Shark—Sophomore Lefthander Brings The Heat For MDC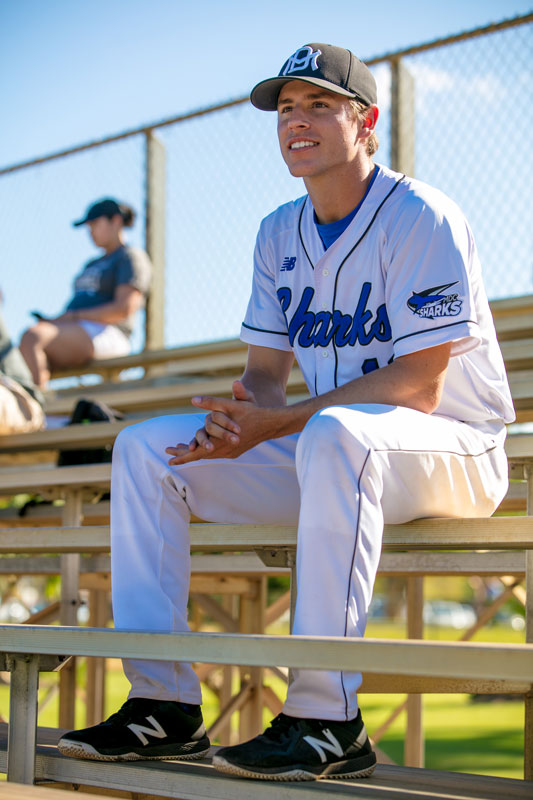 Armed with a 93-MPH fastball with more movement than the Miami Marlins front office, pitcher Garrett Bye is making his presence felt on the mound at Miami Dade College.
Bye, who transferred from the University of South Florida, is the Sharks' number two starter. The sophomore was initially projected to be the team's closer.         
In five appearances—four of them starts—the 6-foot lefthander is 1-1 with a 3.75 ERA and 20 strikeouts, contributing to  the team's 10-6 start.
"He's a great teammate and I love catching for him. He's a hard throwing lefty with life to his fastball and his off-speed [pitches]," said sophomore catcher Robert Fabelo. "Aside from having good stuff, he's a tough-nosed competitor when he's on the mound—it's something that we can all feed off of. He is going to be a big piece to our staff."
Born and raised just outside of Tampa, in Brandon, Florida, Bye grew up in a separated household with his two older sisters, Savannah and Shae. Keeping track of baseball and school between houses was tough, but baseball was always his solace.  
Bye began his baseball career at East Bay Little League for Bullets Baseball at the age of nine. He quickly discovered he could hit and pitch.  
"I remember after some games, when I was ten, thinking baseball is what I want to do for the rest of my life," Bye said.
At Riverview High School, Bye was a three-year letterman, two-time team MVP and first team All-State his senior season, going 5-2 with a 2.91 ERA and 61 strikeouts in 43 innings.
During the 2015 Major League Baseball Draft, Bye received a bevy of calls but none of the teams were willing to meet his demands so he went undrafted and decided to play at USF.
As a Bull, Bye appeared in nine games during his freshman season. He struckout 14 batters in just eight innings pitched. After a 2017 season where he did not see the field, Bye decided to seek a different path.
"He came down to MDC and threw a bullpen for us and we were very impressed," said Sharks head baseball coach Danny Price. "He's a winner, he's proven, he throws hard from the left side and his academics are great. We signed him."
Bye, who holds a 3.2 G.P.A, is majoring in finance and hopes to own a financial advisory company after baseball, has already committed to play at the University of Alabama next season.
"For me, baseball has always served as a fuel source to work as hard as I can to make myself better in every aspect of my life. I would say that I approach pitching in a very competitive way," Bye said. "My pitching coach when I was younger used to tell me 'play the game like a lion chasing its food, be relentless and feed yourself and your family' so I've always held onto that as an idea of how I like to pitch."
The Sharks' next game is at the Kendall Campus, 11011 S.W. 104th St., baseball field on Feb. 27 versus St. Thomas University JV  at 2:30 p.m.