You Better Watch Out, Santa Is Coming To North Campus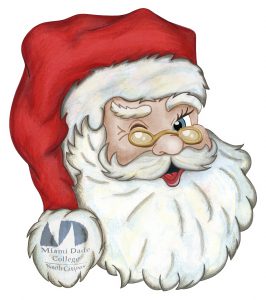 Before students take their final exams or plan that winter break trip, they might want to head to North Campus to help the community.
On Dec. 9, North Campus, 11380 NW 27th Ave., will host its annual Children's Holiday event.  
The holiday celebration is open and free to the public, but attendees are encouraged to bring unwrapped toys to donate to disadvantaged children in the community.
"Thousands of visitors come every year to experience the magical transformation that North Campus undergoes with its themed tents, festive Christmas music, live show entertainment and delicious foods suited for the entire family," said Jesenia Patino, assistant to the senior director of campus administration at North Campus and co-chair of the event.
As soon as Santa Claus lands on campus at 10:30 a.m. to lead the parade, the event, in its twelfth year, will officially be underway.  
After the parade, children and parents will have the chance to meet and greet with Santa Claus, which includes a photo opportunity.
Other exhibits include a 12-foot fake snow mountain, an Enchanted Jungle, where guests can get face-to-face with wild animals and  Elsie's Greenshop, an interactive science exhibit allowing guests to make slime and try foods infused with liquid nitrogen.
"One of the best things about Children's Holiday is to see the North Campus students, faculty and staff participating in the event by hosting tents and activities and coordinating throughout the year to host the best event possible for the families that visit," Patino sad.
There will be three stages showcasing different performances, ranging from the Norland Middle School Dance ensemble and the Ferguson High School Steel Drum Band. Other groups, such as the Hip Hop Kidz dance group, will be returning from last year's event.
Plus, a  food court, The Candy Land Pavilion, will offer various vendors and food trucks to satisfy guest's cravings at economical prices.
"This year we have expanded our health pavilion and have added a special character tent with more than 40 characters from various comic books and well-known animated characters," Patino said.
The event will also feature a Holidays Around The World Center, showcasing global holiday customs and the Scholastics Book Shop, where elves help attendees choose a book to purchase and money collected will be donated to a school in need.
"MDC is committed to serving the needs of the community. Many families struggle financially and cannot afford to celebrate. The North Campus creates this festive event in hopes of bringing holiday merriment and celebration to all," said Jackie Muni, chairperson of social sciences for North Campus and the other co-chair of the event. "Attendees also take part in cultural and educational programming, while having the opportunity to enjoy games, rides, and performances."
Students and faculty are encouraged to donate gifts to student life prior to the event and to also sign up to volunteer through the North Campus website, http://mdc.edu/north/childrensholiday/
"The event serves as a great way not only to bring the community together, but also serves as an additional way for MDC North Campus to give back to the community in a fun and family-friendly environment," Patino said. "It is great to see the families enjoying the activities in a safe and supportive atmosphere."
For more information about the Children's Holiday event, call (305) 237-1141.