AXIS And Urbana Selected As Pacemaker Finalists
Two Miami Dade College literary publications—AXIS at North Campus and Urbana at Eduardo J. Padrón Campus—have been selected as 2019 Pacemaker finalists by the Associated College Press in the two-year college literary arts category. 
Pacemakers are regarded as the top national award for literary magazines. Axis and Urbana were two of six finalists in their category. Work judged was published during the 2018-19 school year. 
"Such recognition validates our student's efforts and challenges them to continue to strive for high standards as they work on the next volume," said Urbana co-advisor Emily Sendin.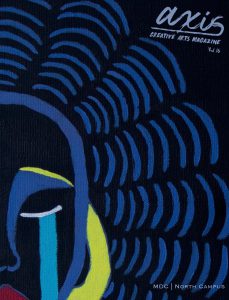 Winners will be announced at the National College Media Convention on Nov. 2 in Washington, D.C.
Both magazines have been nominated twice for the Pacemaker in their history. AXIS won the award last year.  
"It seems to me that AXIS is gaining traction," said AXIS co-advisor Kathleen Noonan. "Students are becoming better at selecting pieces and we're getting great submissions. It gives [the students] confidence. It's not just their teacher telling them they're doing a good job, it's a bunch of people actually acknowledging and praising their work."
The magazines feature various works of prose, poetry, art and photography from students enrolled at their respective campus. 
AXIS is the brainchild of English professors and former advisors Lisa Shaw and Maribel Pérez. They created the magazine in 2002. Urbana was birthed in 2007 by Sendin and a group of students that pushed for a creative magazine. They are strictly an online publication and  publish content in English and Spanish. 
"Urbana is the voice of the campus. It is the tool we use to achieve unison and collaboration," said Giselle Valdes, who serves as the current editor for Urbana. "Being a bilingual magazine, it opens doors for those who thought were marginalized due to language barriers. It keeps all forms of art alive."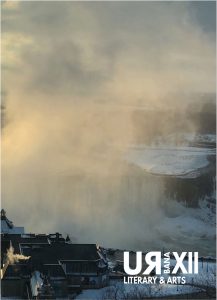 The publications have also been selected as Pinnacle Award finalists in the two-year Literary Magazine of the Year category by the College Media Association. Winners will be announced on Nov. 1 at ACP/CMA Fall National College Media Convention.
AXIS, which has been nominated for the award for two straight years, took home a Pinnacle award last year. This is Urbana's first nomination. 
"It is wonderful to know our team's hard work and dedication is being recognized," said Samantha Zenoz, who served as editor in chief of Urbana last year. "We hope that future volumes of Urbana will continue to provide a place where students can develop their artistic talents and that Urbana continues to be a home to the next generation of artists and writers."
Works of art and literature can be submitted to students enrolled at the literary magazines at their respective campus. Urbana submissions can be sent to urbanalitpadron@mdc.edu and AXIS at axis.creativearts@gmail.com.