After Two ACL Surgeries, Sophomore Center Finally Healthy And Making An Impact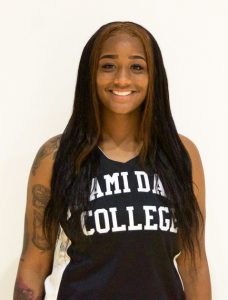 It was a feeling center Deidra Harris knew all too well.
While attempting to grab a rebound during a summer tournament just before her junior season at Columbia High School in Decatur, Georgia, Harris landed awkwardly on her leg. She tore the anterior cruciate ligament in her right knee for the second summer in a row, once again shutting down her season.
Harris' high school career was littered with frustration, only allowing her to play one full season injury-free.
Division I and II scholarships were out of the question and after consulting with friends and family, she knew she had to find a program that allowed her to showcase her versatility—leading her to Miami Dade College.
Now a sophomore for the Lady Sharks, the six-foot-three-inch center is averaging a team-leading 12.5 rebounds per game and 8.8 points per contest while serving as team captain. She averaged 5.9 points and 9.5 rebounds per game as a freshman.   
"There's been a huge mental shift," Harris said. "Last season, I was playing timid. I was worried about injuring myself again and I wasn't able to be comfortable and aggressive like I would like to be."
Harris credits the recoveries of professional athletes such as Derrick Rose and Jabari Parker as inspiration for her transformation. She's playing more fluid this year and her game has more explosiveness.  
"She's a grinder," said Lady Sharks head coach Susan Summons. "We spent the summer working on strengthening her legs so that she's confident in her body. She's now stronger than she was last year and has been able to overcome the mental block she had been playing with."
It wasn't just her play last year that earned her the honor of being a team captain—it's her ability to bring the team together, calming tempers and bolstering the locker room chemistry.  During practice, she is constantly smiling and laughing with teammates when they're not in the middle of a play.
"She's very vocal as a captain," guard/forward Chyna McMichel said. "She is always pushing us to work harder as well as working hard herself."
Harris has also drawn on her high school experience to guide the (3-3) Lady Sharks while debilitating injuries have ravaged the starting lineup. She has helped role players adapt to increased minutes without them being flustered in big moments, according to Summons.
"The type of presence she has on the team is one you know is missing if she's not there," McMichel said. "She talks a lot of smack on the floor which brings out the fire in us. Deidra is a big load that you won't miss if you're watching us."
The Lady Sharks play their next game on the road Dec. 7 against Florida Southwestern State College at 7 p.m.