A Year Later, Melodrama Resounds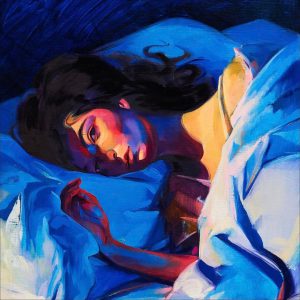 2017 brought a lot of new sounds for music. Between Kendrick Lamar's monumental DAMN., Jay Z's return in 4:44 and the wave that was Despacito, there was something any listener could pour themselves out to. An unappreciated element, despite its critical success, was Lorde's return in Melodrama. A year after its release, it's affected me more than most artists could.
When Lorde marked her return in March of last year with Green Light, my head perked up. Gone was the girl looking down on fame in Royals. In her place was an angry, bitter, melodramatic teen looking for revenge. I felt her progression through her lyrics and music, thinking this would be a new sound.
Even afterwards, I didn't pay much attention. I appreciated the music and thought it was good, but I still never connected to it as much as I'd hoped.
And then the break-up happened. The one that makes you wonder what could've happened, what you should've made happen, where did things go wrong. It happened toward the end of 2017, leaving me with all the hard feelings that come with breakups. Having heard the critical acclaim of Melodrama, I gave it a listen on New Years' Day.
From the onset, it captured the immediate anger which is common with breakups. Through the bitter rage of Green Light ("She thinks you love the beach / you're such a damn liar"), you can feel the need to release all the emotions that come with a relationship ending. This continues throughout the album (loosely constructed around the concept of a house party), with songs like Sober and Homemade Dynamite capturing the idea of the "fun" that comes with the beginning of a relationship while others like Liability and Writer in the Dark examine the loneliness that transpires after.
This leads into a two-track realization, with Supercut  examining the nostalgia one feels long after that break-up and Liability (Reprise) capping the arc of loneliness that started in its predecessor. Perfect Places, the album's closer, ties up the loose ends of the record by having the character — the heartbroken — come to terms with their heartbreak and understand that, even though it doesn't always get better, it's fine.
That realization was something I needed to hear, even if I couldn't make it right away. Repeated listenings helped get me through that hardness, though, turning me from the angry person from Green Light into the person living in their idea of a "perfect place," an important transition in an evermore important year — my first year of college.
A year into the album's release, its themes helped mark an important, personal growth. Relationships are hard and break-ups are harder, leading us to try and find happiness in both the highs and lows of life — and being happy with ending up in the middle. While not terribly successful commercially, Lorde's Melodrama managed to successfully deliver that message — both to critics and to me.